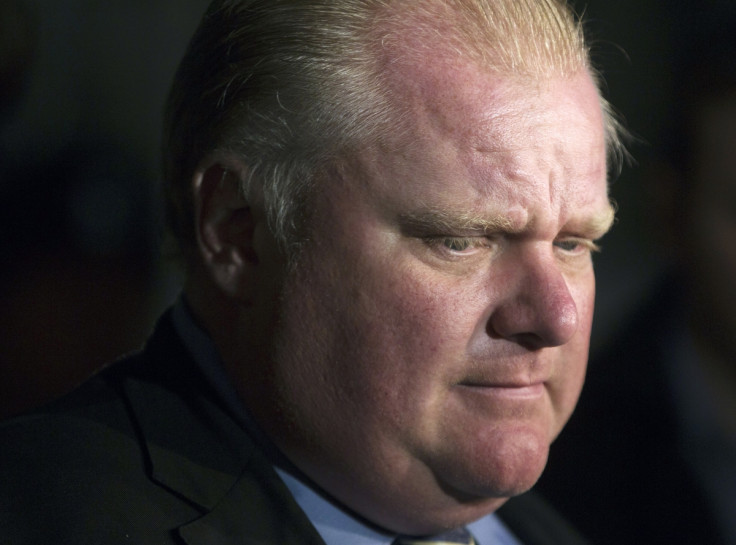 Former Toronto mayor Rob Ford died from cancer on Tuesday (22 March), his family has confirmed. Ford was 46-years-old. He was moved to palliative care recently after chemotherapy attempts proved unsuccessful.
Ford was diagnosed with a pleomorphic liposarcoma of the abdomen in late 2014 while he was pursuing re-election as mayor. Ford served as 64th Mayor of Toronto from 2010 to 2014. He was first elected to the city's council in 2000, before being twice re-elected.
The former mayor had a tumultuous career: he was notably embroiled in a substance abuse scandal after video emerged of him smoking crack cocaine, which he later admitted to taking in a "drunken stupor".
Ford also admitted to smoking "a lot" of marijuana and having a problem with alcohol abuse. He later spent time in rehab.
A statement from the family said Ford had "spent his life serving the citizens of Toronto" and added that that they would not be making any other statements to the media. Ford is survived by his wife and two young children.
Although Ford's surgery for the cancer in May 2015 was said to be successful, a few months later newer cancerous tumours were found. The initial diagnosis meant that he had to pull out of the mayoral race in 2014, but he instead won back his city council seat.
His time in the council was not always rosy, at one point knocking over a fellow councillor as he charged around the chamber during a heated session.
Ford was an independent candidate but was seen as a populist and conservative politician. He endorsed former Prime Minister Stephen Harper in the last election, who went on to lose to the Liberal Party's Justin Trudeau. Even after his numerous scandals, Ford's supporters stayed loyal, sending him messages of support during his battle with cancer.