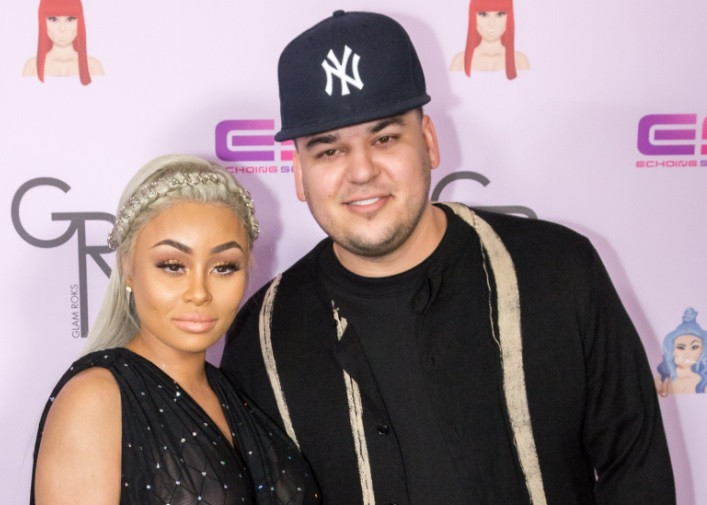 The arrival of baby Dream is bringing Rob Kardashian and Blac Chyna closer but it appears the couple is in a competition to lose weight. While the 28-year-old model is on a fast track to shed the pregnancy weight post delivery, Rob is still struggling to get into shape.
Hollywood Life reports that the Arthur George socks designer is insanely jealous of his fiancé, who lost 23 pounds after giving birth to her second child. "The baby weight is flying off of Blac and it's making Rob insanely jealous. Between breastfeeding and doing some light exercise dropping weight is so easy for her. Meanwhile, Rob has to go on an extreme diet and exercise nonstop and only then will he lose maybe a pound or two a week. Rob is happy for her but it's also really hard on him."
On 26 November, the mother-of-two shared a video revealing her toned stomach as she continues to achieve her postpartum weight loss goals. The reality star, who was weighing 192 pounds during her pregnancy, she revealed breastfeeding as her fitness secret.
"So I posted a picture of my belly yesterday and the only reason it got that flat, you guys, is from breastfeeding and breast pumping and from my body already being small before my pregnancy. And for everybody that [said I got surgery]...yeah, sorry, try again," Chyna said in a Snapchat video.
To keep her future husband motivated, Chyna is taunting him with her fitness goals. "Blac isn't making it any easier on him, teasing him about how much more weight she's lost. Blac thinks taunting him is good motivation but so far it isn't working."