RoBattle: Watch Israel's military robot tank tackle terrain using ground-breaking modular technology
Israel has introduced a new autonomous military robot featuring interchangeable modules that can be adapted for different deployment scenarios. RoBattle is a six-wheeled unmanned ground vehicle (UGV) developed by Israel Aerospace Industries (IAI) and can be modified with different equipment and weapons according to the mission at hand.
For better or worse, robotics are becoming a common sight on today's battlefields as militaries turn to technology to maximise operations while limiting the risk to troops' safety. RoBattle is a tough yet "highly manoeuvrable" UGV, capable of working alone or as part of a support unit for ground troops. This is thanks to what IAI calls a modular robotics kit that enables the robot to be configured for various operational needs - a bit like a dangerous, highly weaponised version of the LG G5.
For example, RoBattle's tyres can be switched for tank tracks, allowing it to tackle pretty much any terrain, meanwhile it can also be kitted out with various sensors, vehicle control, navigation and real-time mapping. According to IAI, operators can equip RoBattle with different payloads like "manipulator arms", intelligence, surveillance and reconnaissance (ISR) sensors and radars, and remotely controlled weapons. As a result, the UGV is equally suited for intelligence, surveillance and armed reconnaissance missions, as well as convoy protection, decoy, and ambush and attack operations, said IAI.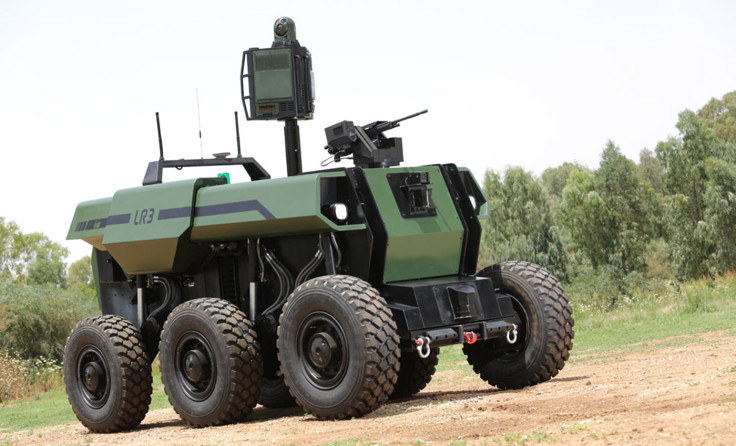 Meir Shabtai, IAI's deputy general manager of ground robotics systems, said in a statement: "The RoBattle system is based on IAI's vast experience and heritage in development and manufacturing of unmanned systems including unmanned ground vehicles. With the modular 'robotic kit' methodology, designed to meet specific customer requirements, RoBattle is one of the most advanced combat, manoeuvring, ground robotics in the market." said Meir Shabtai, IAI's Deputy general manager of ground robotics systems.
"The RoBattle will become a significant player in the ground robotics market. It presents advanced technologies and capabilities that can close the operational gaps in the future battlefield challenges. We are looking forward to all opportunities in the market".
RoBattle is the latest robot in IAI's family of UGVs which also includes Sahar, an autonomous improvised explosive device (IED) detection and clearing robot, and Guardium, an unmanned ground system that can be used for security and reconnaissance missions and for border patrols.
While putting machines on the battlefield can and does save lives, the use of autonomous weapons and drones in particular remains controversial, with some experts warning that their use could lead to a new arms race.
© Copyright IBTimes 2023. All rights reserved.