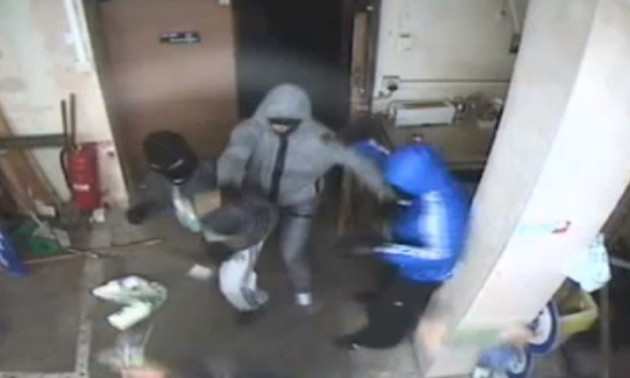 Police in Manchester have released CCTV footage of the moment a gang of robbers charged into a supermarket and attacked two workers with an axe, hammer and crowbar.
The footage shows four armed and masked men forcing their way into a KP supermarket in Tavistock Square, Harpurhey as two staff members were locking up.
One of the men wearing a grey hooded top can be seen repeatedly hitting one of the staff workers with a hammer during an attack of "shocking violence".
The four men, described as being white aged between 25 and 28, were able to leave the supermarket with a "large quantity of cash" before escaping in a waiting getaway car down Lathbury Road.
The two staff workers aged 37 and 50 suffered back and head injuries during the attack, but the injuries aren't thought to be life-threatening.
One of the staff managed to call the police while the robbers were still in the store but the four had already fled by the time officers arrived.
Detective Constable Tina McAndrew, of North Manchester CID, said: "The robbers used shocking levels of violence during this raid.
"The staff were effectively rushed by the robbers, so they had little option but to struggle with them. They clearly came off much worse as these offenders were determined to use whatever violent means necessary to escape with the cash.
"I now want people to take a good look at the CCTV and tell us what they know. Did you see men hanging round the store in the days or hours beforehand or do you recognise the offenders?"