LA Galaxy striker Robbie Keane wants Chelsea midfielder Frank Lampard to join the club as a replacement for David Beckham.
MLS rules allow three players per squad to be outside the wage bracket, and upon Beckham's departure after six-years at the Galaxy, the champions have one place remaining, with Keane and Landon Donovan filling the other spots.
And the Republic of Ireland international, who played against Lampard during his days at Leeds United, Tottenham Hotspur, Liverpool and West Ham United but not in his loan spell at Aston Villa, says Lampard would be the perfect replacement.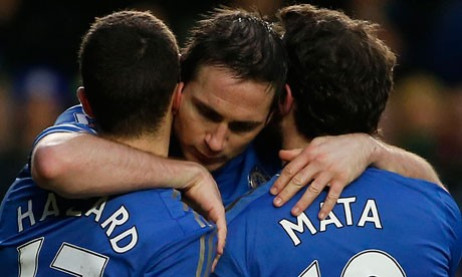 "I am sure they have someone in the pipeline [to replace Beckham]," Keane said.
"I think it is important for the team to get big-name players in and if we get Frank it will be good - he's been on fire."
Lampard, out of contract at the end of the campaign, is closing in on becoming Chelsea's record goal-scorer having scored 16 goals this season, including in the recent win over Wigan Athletic.
Chelsea are yet to offer Lampard a contract extension in line with the England midfielder's demands, with the club's ruthless policy of offering deals longer than one year to players in their 30s having already sparked the departure of Didier Drogba last summer.
Ashley Cole, also out of contract in the summer, has agreed a new one-year deal.
Amid their Champions League qualification campaign, Chelsea resume their European season in the Europa League against Sparta Prague on Thursday and Lampard says that without a trophy, with the club out of the League Cup, the season doesn't constitute a success for Chelsea.
"At the minute the season hasn't been successful," Lampard told Chelsea TV.
"We should be challenging for titles rather than third or fourth, but we're not. And we've not won some cups, we've been knocked out.
"We have to grab the fact that there's a lot of games to play and we have to try to win something."
"You have to have an eye on the squad - it is a long season - so I'm not expecting, or asking, to play every single game," the 34 year old added.
"(But) it seems to me recently I've been able to play every three or four days, I've enjoyed it."