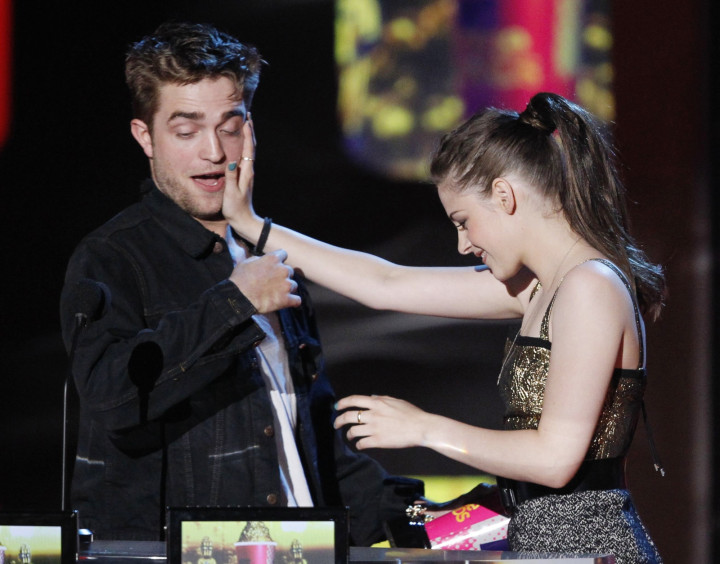 Robert Pattinson and Kristen Stewart called it quits a year back, but their reconciliation rumours hit the internet every now and then.
The estranged couple are currently in Canada, and rumours are running wild of their much awaited reunion.
According to Celeb Dirty Laundry, the former lovers could "get back together" because Pattinson is in Toronto shooting his film Idol's Eye while Stewart will be in town doing promotional work for her films.
The website reported: "Some people seem convinced that Rob is going to get in touch with Kristen while he's back in Toronto, but whether he does or not, I have a feeling that Kristen Stewart will play enough of an obstacle between Rob and FKA. FKA might be the coolest girl in the world, but it's hard for any girl to be that secure about her boyfriend keeping in touch with his old girlfriend."
However, a source immediately denied the pair's reunion speculation to Gossip Cop, insisting, "That's a crazy rumor. Just not true."
Meanwhile, Stewart announced that she plans to take a break from acting, after starring in seven films in two years.
"I'm going to take so much time off. I'm going to buy a live-work space in downtown LA, and I'm going to make some (stuff) with my hands," she told USA Today. "Literally, I made that decision a few weeks ago. I'm making a short film. I'm making a bunch of (stuff). I don't know how I'll put it out. But I'm not going to hold it so preciously close to me. I write all the time."
The Twilight stars ended their three-year relationship after Stewart cheated on Pattinson with director Rupert Sanders. Following their split, the actress was reportedly linked to upcoming sci-fi romantic drama film Equals co-star Nicholas Hoult, while the actor is still dating British singer FKA Twigs.
Do you think Robert Pattinson and Kristen Stewart will rekindle their romance in Canada?
Let us know your opinion in the comments section.