Manchester City striker Mario Balotelli will not be joining AC Milan in the January transfer window following his latest falling out with manager Roberto Mancini, according to Italian president Silvio Burlusconi.
Balotelli was pictured in a training ground bust up with manager Mancini on Thursday morning, the latest in a series of spats between the Italian striker and members of the Manchester City squad.
The incident will lead to further questions over Balotelli's future in English football, and scrutiny of Mancini's continued indulgence of the 22 year old, whose discipline has often been a cause for concern.
While the incident again highlights the combustible relationship between Balotelli and fellow members of City's playing and management staff, this latest episode again exposes Mancini's standing among his squad.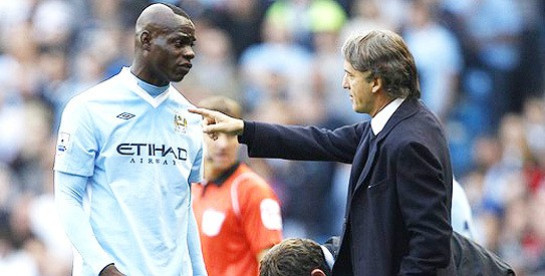 After Carlos Tevez refused to warm up against Bayern Munich in the Champions League in September 2011, Mancini claimed the Argentine would never play for the club again, comments he was later forced to withdraw after City failed to sell the striker in the January transfer window.
Mancini welcomed Tevez back into the squad, which subsequently went on to win their first league title for 44 years in May. However his integrity and standing as manager took a significant and seemingly irreparable hit.
City's hopes of relinquishing Balotelli from their playing squad appear similarly diminished, with one of his rumoured suitors, Milan, counting themselves out of the running to sign the former Inter forward in the January window.
"Balotelli, as I have said on other occasions, doesn't convince me as a man," owner Silvio Berlusconi said.
Previous confrontations involving Balotelli have come with current teammates Yaya Toure and Micah Richards, as well departed German defender Jerome Boateng, while a series of decisions have sparked arguments with his manager.
Former City striker Rodney Marsh said: "It comes down to Mancini really. With Balotelli, it is what it is, you either take it or leave it.
"Over the last two seasons, Mario Balotelli has been involved in so many incidents on and off the pitch, including scoring magnificent goals to win matches. It's simple for me, you either love him, and cuddle him and embrace him or you dump him."