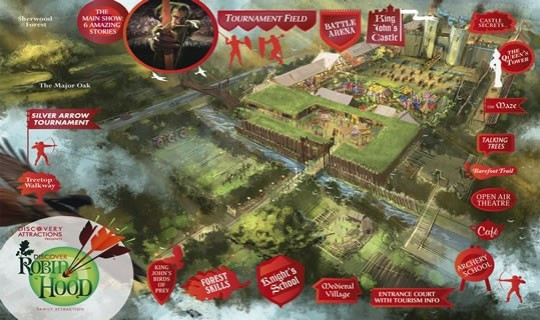 Nottinghamshire County Council is planning to build a £13 million "world class" Robin Hood visitor attraction near Sherwood Forest.
The council will be working with Discovery Attractions to move the legend of Robin Hood onto "its next exciting chapter".
The project is due to open in the spring of 2015 and will be the only attraction in the UK and Europe dedicated to the heroic medieval outlaw.
A statement from the council said: "At peak times around 100 people could be employed during the summer period, with additional short-term staffing needed during events and major banquets.
"The nature of the employment on offer lends itself best to residents in the nearby area. This represents an injection into the area of a little over £1 million of local wages and salaries per annum.
"Add to this spend for local goods and services, which will be made from within the local community wherever possible, it is expected to bring a total in excess of £2 million per annum in direct local economic contribution."
Discover Robin Hood in Sherwood Forest will cover 40 acres and include a domed attraction chronicling the history of the forest. An open air theatre will provide shows and presentations, while a tournament field will include jousting shows, hawking and falconry, horsemanship and archery contests.
Another feature will be a Dungeons and Torture Chamber, while a Knight's School will provide the opportunity for visitors to dress up in armour, try out jousting and archery, train in swordsmanship and "slay dragons and rescue damsels".
There will be a central maze, a bare foot trail, a 4D film and the Main Show, which will include special effects wizardry and live action that transports visitors "back to 12th Century England to join Robin and his brave band of compassionate warriors on their adventures".
John Cottee, chairman for the Culture Committee at Nottinghamshire County Council said: "This will put Sherwood Forest, Robin Hood's legendary home back on the map.
"The County Council is committed to raising the profile of Robin and Sherwood locally, nationally and internationally whilst at the same time protecting ancient Sherwood Forest for future generations. This exciting venture will also create and sustain jobs for Nottinghamshire people.
"We hope to excite and educate visitors from all over the world. We're delighted to be working with Discovery Attractions to build a world class attraction befitting our legendary hero and his forest home."
Bob White, chairman of the World Wide Robin Hood Society, said: "These are exciting times for everyone who loves Robin Hood and it is wonderful to hear of these plans which will bring benefits to all - and in Robin's heartland of Sherwood Forest.
"Robin Hood is a powerful iconic brand and the outlaw himself would I am sure be extremely excited about what is being planned by Nottinghamshire County Council and other agencies working together on these proposals."