Robin Williams' daughter has been forced off Twitter after internet trolls posted a fake photograph, claiming it was a picture of her dead father.
Zelda Williams, 25, appealed to her 169,000 followers to report the two users who had sent the cruel tweet to her account.
Clearly distressed by the graphic post, she wrote: "I'm shaking. I can't. Please. Twitter requires a link and I won't open it. Don't either. Please."
Fans of the late actor quickly rallied to report the offensive tweet, expressing their dismay at the incident.
One wrote: "I hope @zeldawilliams knows the people who love her outnumber the scumbags by about 94,000,000 to 1."
Another said: "@zeldawilliams that is the saddest and sickest thing I have ever seen. I am ashamed if (sic) humanity."
The image has since been revealed to be a fake, which was digitally altered to look like Robin Williams.
I'm sorry. I should've risen above. Deleting this from my devices for a good long time, maybe forever. Time will tell. Goodbye.

— Zelda Williams (@zeldawilliams) August 13, 2014
The messages were sent from accounts under the names @PimpStory and @MrGoosebuster. Both accounts have now been suspended.
Zelda deleted the distressing tweet and explained how the incident has compelled her to remove herself from Twitter.
She wrote: "I'm sorry. I should've risen above. Deleting this from my devices for a good long time, maybe forever. Time will tell. Goodbye."
Zelda also said she will no longer use her Instagram account, as she 'heals' after the loss of her father. Asking that her family's privacy be respected in the face of their loss, she also said it was not fair to judge her relationship with her father based on the images on social media.
"I will be leaving this account for a bit while I heal and decide if I'll be deleting it or not. In this difficult time, please try to be respectful of the accounts of myself, my family and my friends. Mining our accounts for photos of dad, or judging me on the number of them is cruel and unnecessary.
We live in a sick world . Can you believe people were trolling Zelda Williams daughter of Robin Williams that is sick — chris latimer #632 (@justbeinganicon) August 13, 2014
"There are a couple throughout, but the real private moments I shared with him were precious, quiet, and believe it or not, not full of photos or 'selfies'. I shared him with a world where everyone was taking their photo with him, but I was lucky enough to spend time with him without cameras too. That was more than enough, and I'm grateful for what little time I had.
"My favorite photos of family are framed in my house, not posted on social media, and they'll remain there. They would've wound up on the news or blogs then, and they certainly would now. That's not what I want for our memories together. Thank you for your respect and understanding in this difficult time. Goodbye. Xo."
Following reports of Williams death, Zelda and her brothers issued a statement in which she said she felt "stripped bare" after her father's death.
"My family has always been private about our time spent together. It was our way of keeping one thing that was ours, with a man we shared with an entire world. But now that's gone, and I feel stripped bare."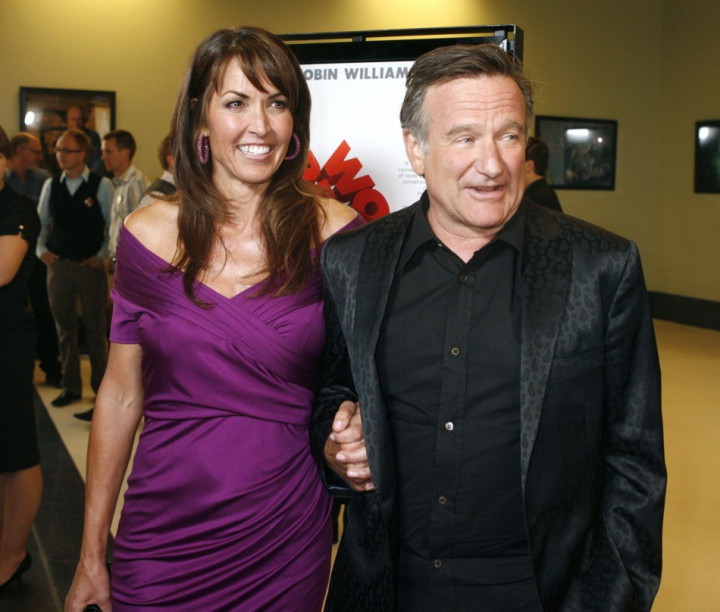 Robin Williams hanged himself on Sunday (10 August) night while his wife Susan Schneider, slept in a nearby bedroom.
The actor, who first came to fame with the popular US TV series Mork and Mindy, had been battling depression and alcohol and drug addiction for decades.
The twice divorced comic star was reportedly facing mounting financial pressures and was planning to sell a $35 million estate in Napa because he could no longer afford it.
The Oscar winner was said to be disappointed at the prospect of returning to TV and taking on movies that he didn't want to do, in order to manage his finances.
Earlier this year, Williams was back in rehab 'fine-tuning' his sobriety.
President Obama lead the tributes to the much-loved star as all of Hollywood expressed their shock at his passing.
For confidential support in the UK, call the Samaritans on 08457 90 90 90, or visit a local Samaritans branch. For confidential help in the U.S. call the National Suicide Prevention Lifeline at 1-800-273-8255.