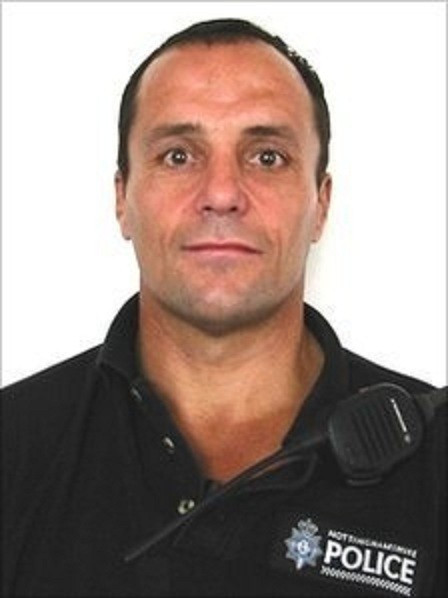 A policeman nicknamed "Robocop" because of his prolific arrest rate is in hospital after being critically injured while on his bicycle.
PC Diederik Coetzee, who won a formal citation in 2005 after making 309 arrests in a year, was off duty on Friday evening when he was struck from behind in a hit-and-run collision in Blidworth, near Mansfield.
The South African-born officer, 54, is thought to be in a critical but stable condition in King's Mill Hospital. He was wearing a high-visibility vest and had his bike lights on at the time of the incident in Blidworth Lane.
Detective Sergeant Ged Hazelwood, who is investigating the incident, said in a statement: "Blidworth Lane is a poorly illuminated throughway but the collision happened during rush hour, when many people were headed home from work.
"Anyone with any information should contact us."
Nottinghamshire Police have said there is no evidence to suggest the collision was deliberate, though they are not ruling out the possibility.
PC Coetzee hit the headlines six years ago when he arrested more people during a 12-month period than any officer in the country - beating the previous record of 305 held by a Northumbria dog handler, with two months to spare.
His high arrest rate meant he was ordered to stay away from a street near a youth centre, because of complaints that people were put off from attending out of fear they would be arrested by him.
PC Coetzee worked for more than 24 years as an explosives expert and dog handler in Johannesburg before moving to Britain in 1997.