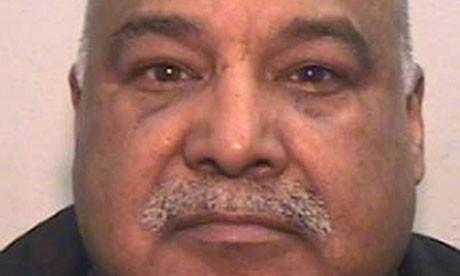 The jailed leader of Rochdale's child-grooming gang stamped on the head of a fellow prisoner following a row about terrorism.
Shabir Ahmed is currently serving a 22-year jail sentence for a string of sex attacks on girls as young as 13, who he groomed as leader of a group of nine men.
The 64-year-old got into an argument with another prisoner at HMP Wakefield on the day of the Brussels terror attacks last year, which killed 32 and injured 340.
In Ahmed's latest trial, Leeds Crown Court heard he launched an attack on fellow prisoner, James Palmer, on 22 March last year after hearing him discuss the Belgium terror atrocity.
Palmer, 71, had said "terrorists should be eradicated" on the day of the attack, sparking violence from Ahmed.
Ahmed threatened to kill him if he "slagged off Muslims again". He later punched Palmer in the face and stamped on his head "a number of times" before he was stopped by other prisoners, the jury heard.
Palmer was taken to the prison's healthcare department where he spent a few days being treated for a broken nose, a cut lip and abrasions to his head.
Speaking about his reaction to the terror attack, Palmer told the court: "I was shocked and horrified again. I said these bombers have got to be eradicated."
He said Ahmed then told him: '"You effing insult Muslims again I will effing kill you.'"
Ahmed denied the attack, but a jury found him guilty of occasioning actual bodily harm after retiring for just 24 minutes.
Judge Kearle added one year onto Ahmed's current sentence after he was found guilty of the attack.
The divorced father of four was one of a gang of nine men – eight of Pakistani origin and one from Afghanistan – convicted of preying on girls in Rochdale, plying them with drink and drugs before they were "passed around" for sex. He was known as 'Daddy' to many of his victims.
Ahmed was convicted of two counts of rape, one of sex assault, trafficking and conspiracy to engage in sexual activity with a child in 2012.
The taxi driver worker used his trial to launch a series of tirades, including one in which he tried to blame Western society for allowing young girls to "parade on the streets".
He is one of four of the gang now fighting a decision to strip them of their UK citizenship, claiming the move breaches their human rights.