Police in New York seized enough fentanyl to kill 32 million people after following two dealers home from a meet up at a New Jersey Walmart. Officers tailed the pair back to a property in New York and found 64kg of pure fentanyl inside – a record seizure for the city.
Fentanyl is a synthetic opioid 50 times stronger than heroin, largely responsible for record numbers of drug deaths across America.
"The sheer volume of fentanyl pouring into the city is shocking," said Special Narcotics Prosecutor Bridget Brennan. "It's not only killing a record number of people in New York City but the city is used as a hub of regional distribution for a lethal substance that is taking thousands of lives throughout the Northeast."
Officers watched Alvarado Robles and Flores Solis meet an unidentified male in a New Jersey Walmart on 1 August.
They then followed the pair's silver Mercedes back to an address in Queens and searched the car, finding 1kg of cocaine. At 9pm that evening detectives obtained a search warrant and went into the house where the car was parked.
Inside they found four suitcases packed with 97 individually wrapped bags of drugs. In addition to the pure fentanyl, they found 22kg of fentanyl mixed with other drugs, 5kg of heroin and 6kg of cocaine.
"The seizure of this amount of narcotics, especially the fentanyl, undoubtedly saved countless lives. The combination of fentanyl with the other drugs is a deadly combination," said Carl Kotowski of the U.S. Drug Enforcement Administration. "We will continue to work with our law enforcement counterparts to keep our communities safe."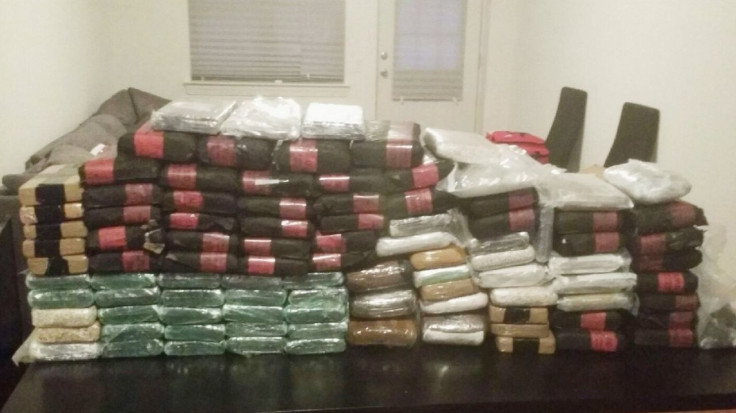 $30m drugs haul in New York
Prosecutor Brennan was able to boast of seizing $30m (£22m) in six weeks when New York Police had another big success on 5 September.
On this occasion, they followed a dealer back from a meeting at a hardware store in New Jersey to an address in the Bronx.
After obtaining a warrant they found 34kg of heroin laced with fentanyl and 1kg of pure fentanyl at the property.
US Opioid epidemic
US drug deaths have rocketed from under 30,000 in 2005 to 65,000 in 2016. This is largely thanks to the proliferation of fentanyl.
Dealers import the synthetic opioid from China and cut it with heroin to maximise their profits. But this method is highly flawed: if the more potent drug is not spread evenly, users may ingest "hotspots" of highly concentrated fentanyl, which can kill even the most tolerant of heroin users.
"The NYPD has been successful in drug interdiction to date, but this seizure goes down in history as a milestone in the ongoing fight against fentanyl," said Police Commissioner James P. O'Neill. "This case demonstrates our Department's deep commitment to protecting the public from drug cartels that seek to profit at the expense of our citizens."