Sir Roger Bannister is favourite to light the Olympic cauldron during the opening ceremony of the London 2012 Games after William Hill closed betting on the 83 year old being given the prestigious honour on Thursday.
Odds on Bannister, who became the first athlete to run a sub-four-minute mile in 1954, dramatically shortened as a flurry of bets saw him overtake Sir Steve Redgrave and David Beckham in the market for the prestigious honour.
An Olympian in 1952 in Helisinki, Bannister failed to win a medal, however his prowess over the mile distance makes him among Britain's most celebrated athletes.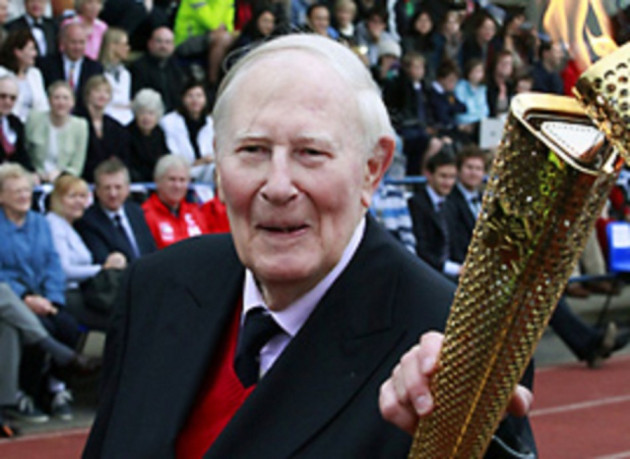 "He went from 6-1 to even money and he was 33-1 just a few days ago," said a spokesman. "It's the second time it's happened, but it seem a bit illogical as he's got no strong link with the Games."
The betting agent have however heeded caution, sighting odds concerning Beckham, Tom Daley, Bradley Wiggins and Muhammad Ali, which have all significantly reduced on Thursday.
"It's been an incredibly popular betting event, with everyone in our list attracting a bet, but it's Sir Roger that's the stand out selection with the punters at Coral," added.
"It seems to be the best kept secret around at the moment, and as long as it stays that way we will keep taking bets on it."
The lighting of the Olympic cauldron signifies the opening of the Olympic Games, but as yet, no indication has been given as to who will be given the honour, leading to suggestions that a non-athlete will be instructed to light the flame.
However, Locog chief executive Paul Deighton has dismissed the notion of an unknown personality lighting the flame, by claiming the organising committee's decision was unanimous.
"It was surprising really we reached a unanimous decision pretty quickly and I think that when everyone sees our choice I think tomorrow they'll understand why we made it," Deighton said.
"We're all very excited on the team when you hear about our city now you see a number of volunteers who really do give a spirit to the games and they're doing a wonderful job," he added.
"Operationally things are going well whether it's coming through the airport or moving about on the road. The athletes village is a great success, they're doing to and from training very effectively.
"The venues look absolutely great, the torch I having a fantastic time in London and I'm feeling excited we've got a great couple of weeks ahead of us."