Roger Federer reveals reason he wants to play with Rafael Nadal during 2017 Laver Cup
KEY POINTS
Federer and Nadal are keen to play doubles with each other at the 2017 Laver Cup.
Bjorn Borg – captain of Team Europe – will have the final say on the pairings.
Roger Federer and Rafael Nadal could be on the same side of the court for the first time in their careers when Team Europe takes on Team World in the upcoming Laver Cup in the Czech Republic.
The inaugural event, that takes place during the upcoming weekend (22-24 September), will see a six-member team comprising of players from Europe – which includes Federer, Nadal, Tomas Berdych, Marin Cilic and Alexandre Zverev – taking on a team of players from the rest of the world, led by Sam Querrey and Nick Kyrgios.
The format sees the teams play each other in nine singles and three doubles matches, and Federer and Nadal are hoping that they will get a chance to team up for at least one game. The duo will play at least one singles game each, but it will be up to Team Europe captain Bjorn Borg to decide if they play together in the doubles.
The Swiss ace and the Spaniard have dominated the best part of this decade, winning 19 and 16 men's singles Grand Slam titles, respectively. They struggled for fitness and form in recent campaigns but have turned back the clock in 2017.
Nadal and Federer are currently ranked number one and two in the world, and will resume their battle for the year-end number one ranking once the regular season resumes after the Laver Cup.
The duo have been long-time rivals but share a great camaraderie off the court. They have never partnered each other before and Federer admitted that he is hoping to witness Nadal's legendary forehand inflict some damage on their opponents.
"I would love to play with Rafa and see that forehand do damage on the other side," Federer said, as quoted by Fox Sports. "I'm sure that the crowd would go absolutely crazy and just because of that, it would just be great to play."
Nadal was enthusiastic about the pairing as well. "We've talked about that years ago, to play in some tournament together. It didn't happen yet. We're looking forward to playing here, hopefully. Let's see if the captain allows us to play.
The Spaniard, however, has some concerns regarding his fitness as he has not practised since lifting his third US Open crown at Flushing Meadows earlier this month. He returned to the practice courts in Prague, Czech Republic on Wednesday (20 September) and is hoping to be ready to play by the time the tournament starts on Friday (22 September).
Speaking ahead of his practice sessions on Wednesday, the 31-year-old Spaniard had said, "I didn't practice here yet, of course, after the US Open. After a big event, you go down a little bit, you need to recover energy. I have today [Wednesday] and tomorrow [Thursday] to practice hard, and let's see then."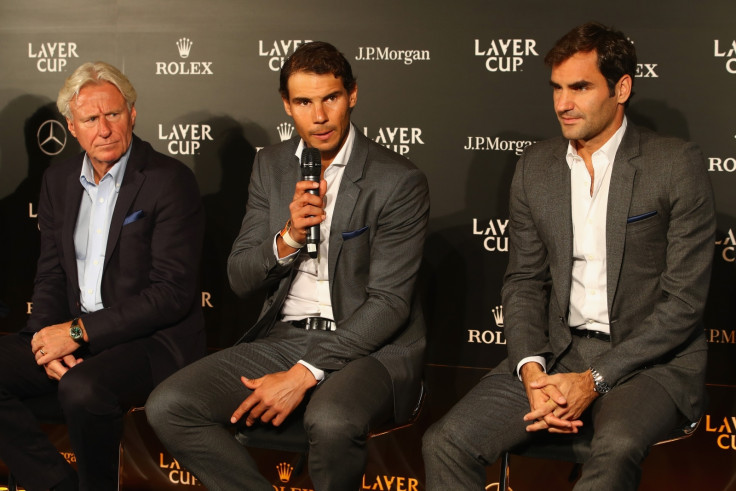 © Copyright IBTimes 2023. All rights reserved.