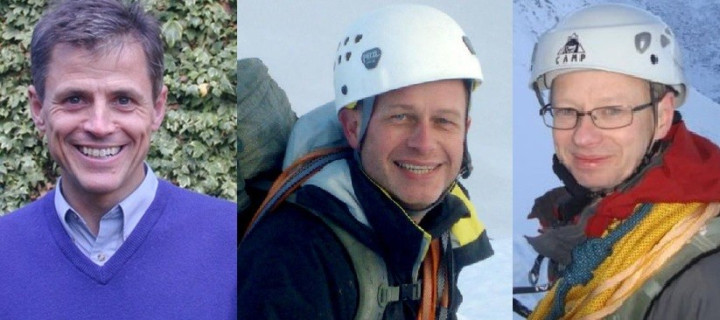 The three British climbers killed by an avalanche near Mont Blanc in the French Alps have been named.
Two of the men, John Taylor, 48, and Steve Barber, 47, were from the same north Yorkshire village of Upper Poppleton. The third Briton was Roger Payne, 55, of Hammersmith, west London, an experienced climber and mountain guide.
It has been revealed that Taylor and Barber were climbing together in an attempt to raise money for the St Leonard's Hospice charity.
The three climbers had been ascending Mont Maudit - which translates to "cursed mountain" - as part of a 28-strong group attempting to make it to the summit of Mont Blanc.
Tributes were paid to Taylor and Barber at Poppleton Ousebank primary school, which their children attend.
A letter written to parents by headteacher Estelle O'Hara said: "It is with great sadness that I write to inform you that two of the climbers killed in yesterday's avalanche were parents from Poppleton Ousebank.
"The children have been informed and school staff have been supporting them throughout the day."
Alan Hinkes, a friend of Payne, told the BBC: "Roger was doing what he wanted to do, he was helping two people to the top. He will be missed."
Three Germans, two Spanish and one Swiss climber also perished in the snowslide on Mont Maudit on July 12.
Some climbers escaped after being hit by the avalanche, which was 2m deep and 50m long and could have been caused by a comparably small ice sheet being dislodged above.
One of the survivors, Tomas Dybro, told ITV News that he was lucky to only be clipped by the flank of the avalanche as it cascaded down the mountain.
At first Dybro thought that he would be able to cling on to the mountainside and weather the impact of the snow. "But then, one or two seconds later, it was all over and just hitting us and that was terrible because I just thought I was going to die."
Dybro was swept 250 metres down the mountain and had to dig himself out with the spikes on his boots. He then set to work rescuing others who had been buried.
"The worst thing was seeing the people that we dug up who had died. It was terrible," he added.