Like many big blockbusters these days, particularly when it comes to franchises, Rogue One: A Star Wars Story doesn't just feature one villain but two − iconic big bad Darth Vader and newbie Director Orson Krennic, played by Ben Mendelsohn. But while they're both antagonists, essentially fighting for the same cause under the Galactic Empire, they don't always get along...
During an interview with Empire, the Bloodline actor touched on his character's volatile relationship with Vader, explaining why their personalities often clash: "It's fair to say Lord Vader and he aren't friendly. Darth is very much about The Force. Krennic is force. Not really down with the whole mystical thing."
While Darth Vader is a former Jedi Knight turned Sith Lord with all the abilities that come with those titles, Krennic is entirely human and works as the Imperial Military's Director of Advanced Weapons Research, so it makes sense that they would approach impending war and control of the galaxy in different ways.
"[Krennic] is truly a man that has made his own way up the chain through his own abilities," Mendelsohn added. "His weapon, for instance, is a very old type of blaster, because he's an old warrior dude. He's been put in charge of making this thing happen. And it's gonna get done!"
Kiri Hart, Lucasfilm's head of story development recently made similar comments, saying: "Here is the thing about Krennic: His perspective obviously is that of a person who doesn't understand The Force. And Darth Vader comes at everything from the perspective of understanding The Force. So that, I think, is the thing that you see separating Darth Vader from other characters with regards to a super weapon like this. "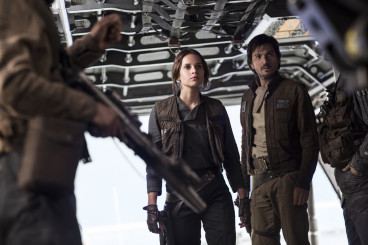 Directed by Gareth Edwards (Godzilla) and also starring Diego Luna, Genevieve O'Reilly, Forest Whitaker, Mads Mikkelsen and Felicity Jones, Rogue One: A Star Wars Story revolves around a group of rebels who plan to infiltrate the imperial army base to steal plans for the first Death Star.
While there have already been prequels to the Star Wars originals, which were arguably not well received, Rogue One will bring audiences right up to the beginning of A New Hope. It is scheduled to open in UK and US cinemas on 16 December 2016.
For more entertainment news follow A-List on Twitter @Alistinsider