Since 1977, the Star Wars franchise has been jam-packed with iconic imagery, from lightsabers and Ewoks to stormtroopers and the Millenium Falcon. And it isn't just its visuals that are recognisable. Villain Darth Vader is just as synonymous a character, if not more so, in Star Wars as Harrison Ford's swaggering Hans Solo so it stands to reason that filmmakers and actors over the years have been intimidated by his presence on set.
Rogue One: A Star Wars Story director Gareth Edwards and star Ben Mendelsohn, in particular, were taken aback by the ominous-looking Sith Lord, according to Cinema Blend. Speaking at the movie's press conference in California, the pair recalled what it was like to film scenes with the heavy-breathing antagonist and how they both had to have a little "melt moment" beforehand...
"We were in the middle of filming this scene with Darth and Ben was like, 'Gareth, need to talk to you,' Edwards explained. "And I was like, 'What's the matter?' And he just, 'I need to go in the corner and talk to you. I need to have a word.' And it was like, 'Oh s**t, here we go. What's the matter?' And we go over and I'm like, 'You all right, Ben? What's the matter?' And he goes, 'It's Darth f*****g Vader!" And it was like, 'I know!' And we both had this little moment where we melted and we could just admit it. And then we turned around really professionally like, 'Okay, we'll try and fix that.' And we walked back."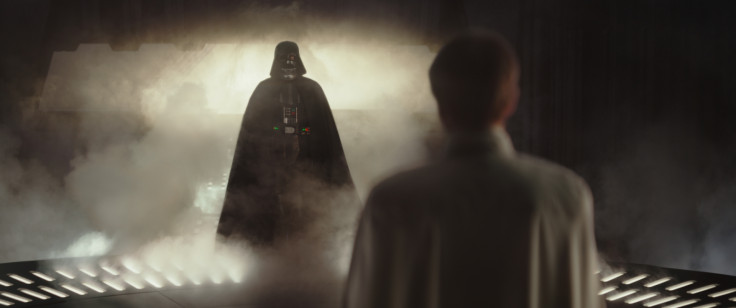 "The first thing you have to do is just get over the fact that you're doing a scene with Darth Vader, and that takes... yeah, that took me a little while," Mendelsohn candidly admitted. "I'm a first-generation fan boy. It took a little while to feel like I could answer him with some solidity, like we could have a discussion, as it were. That took a little while. And also, Darth, his gestures and his mannerisms are so familiar that finding someone that can execute that in a way that is fluid is its own skill set, and so that requires a certain amount of thought and consideration too when you're doing it."
Also starring Diego Luna, Forest Whitaker and Felicity Jones, Rogue One: A Star Wars Story revolves around a group of rebels who infiltrate the Imperial Army base to steal plans for superweapon, the Death Star. It is scheduled to open in UK cinemas on 15 December 2016 and comes out in the US the following day.
For more entertainment news follow us on Twitter @Alistinsider