A Roman Catholic priest who was abducted by Islamist militants in the Filipino town of Marawi has been spotted alive, according to the military.
The Filipino army has been fighting against Maute and Abu Sayyaf militants – affiliated to the Isis terror group – since 23 May, when fighters seized the town in retaliation to the army's failed attempt to capture terrorist leader Isnilon Totoni Hapilon.
Militants took hostage Father Teresito "Chito" Suganob, a Catholic priest assigned to Marawi, along with other civilians after the siege began.
Suganob was seen alive on Sunday (25 June) in parts of the town still held by the militants.
"We don't have details of his health. We were just told that he was sighted alive,"military spokesman Lieutenant Colonel Jo-Ar Herrera was quoted by AFP as saying.
Following his abduction, Suganob is believed to have appeared in a video in which he called on President Rodrigo Duterte to withdraw troops from Marawi and "give your enemies what they are asking for".
The origins of the video are not clear. It was uploaded on YouTube on 30 May and was circulated on social media.
The Catholic Bishops Conference of the Philippines confirmed that the man who appeared in the video was Suganob, according to local news site Inquirer.
"Mr. President, we are in the midst of war," the man believed to be Suganob is heard saying in the video.
"We are asking for your help. Please give us what your enemies are asking for. They are not asking for anything, just withdraw your forces away from Lanao del Sur and Marawi City. Stop the air strikes, stop the air attacks, stop the cannons," the man continued.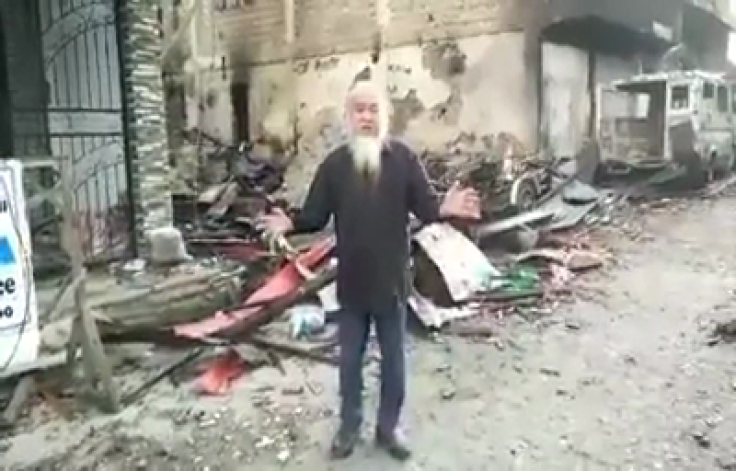 Fighting in Marawi
Fighting in Marawi has caused the death of nearly 300 militants, 67 troops and 26 civilians, prompting Duterte to declare martial law in the island of Mindanao, where Marawi is located
More than 200,000 people have also been displaced, with the army estimating at least 500 civilians remain trapped in areas where fighting is concentrated. Their lives are at risk due to bombings, starvation as well as the militants' use of civilians as human shields.
The army said on Monday (26 June) militants are using around 100 civilians as human shields, ammunition carriers and stretcher-bearers.
The military ended a temporary "humanitarian" ceasefire which was to allow Muslim residents to celebrate Eid al-Fitr, which marks the end of the month of Ramadan. Fighting resumed on Monday.
There is a large population of Muslims in Mindanao, but the rest of the country is predominantly Roman Catholic population.
"Our offensive operations have resumed and will continue so we can liberate Marawi at the soonest time possible," Herrera said.
He added that the bodies of two militants believed to be from the Middle East were found, in what is another indication that foreign fighters are joining militants in Marawi.
A Philippines intelligence source said earlier this year that of the 400-500 fighters who seized Marawi, as many as 40 had recently come from overseas, including from the Middle East.
As fighting continues in Marawi, a senior military commander claimed Hapilon may have fled the town. The army is investigating the claims.