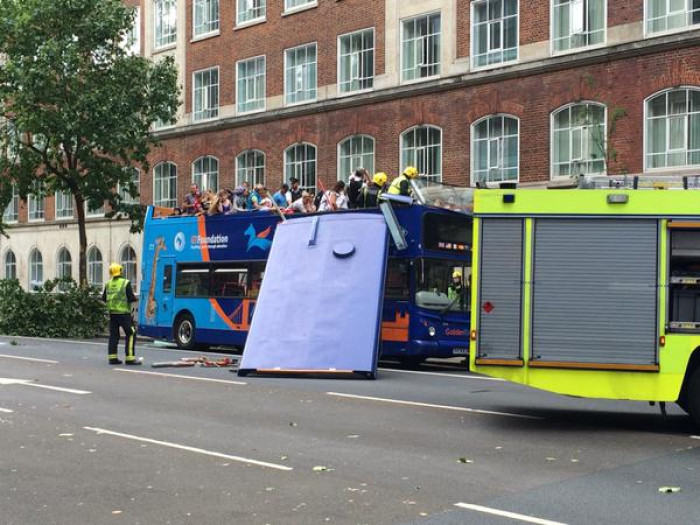 The roof of a tourist bus was ripped off after it collided with a tree in central London, leaving at least five people injured.
The double-decker bus, which was believed to be partly open-topped, ran into overhanging branches from a tree in Woburn Place in Bloomsbury.
The incident caused the roof to be ripped off, leaving dozens of tourists on board shaken up. Witnesses described seeing passengers "hugging and consoling" following the collision on Monday 3 August.
Five people have been taken to hospital with non-serious injuries. About 40 more were helped off the bus by emergency services and are not believe to be injured.
Eyewitness Craig Douglas told the Evening Standard: "The roof was hanging off even though the branch really did not look big enough to do it; I don't know how it happened.
"Everyone was standing up and seemed rather ok. A few people were hugging and consoling each other.
"It looked miraculous that everyone got away, the whole roof was off and there was glass all over the floor."
A spokesperson for the London Fire Brigade said: "Firefighters have been called to Woburn Place in Bloomsbury after a tourist bus collided with the overhanging branch of a tree.
"The impact removed the roof of the bus. Five people have been taken to hospital by London Ambulance Service (LAS). Around 40 other passengers, who are believed to be uninjured, are being looked after by police and LAS staff in a nearby building.
"The brigade was called at 13:12. Two fire engines and a fire rescue unit from Euston and Islington fire stations attended the incident along with around 15 firefighters."