The boss of the Royal Bank of Scotland has hit back allegations that the bank pushed businesses into default after moving them into its Global Restructuring Group by claiming that the firm 'saved' 162,000 jobs.
In a speech, following RBS's 2013 financial results statement, Ross McEwan said the various mis-selling scandals and the Tomlinson report has led to the firm being the "least trusted bank in Britain".
"We need to acknowledge that the sale of interest rate swaps and payment protection insurance (PPI) has seriously undermined trust in this industry," said McEwan.
"We need to understand that allegations of mis-treatment of small business customers have undermined trust in this bank. We have to restore that trust. But we need to make sure that we do not lose the skills and abilities from a team that has saved over 162,000 British jobs by successfully restructuring 700 companies during 2013."
RBS received a taxpayer funded £45bn (€54bn, $73bn) bailout in 2008, which eventually led it to be 81% owned by the government. Since then, it is has been riddled with mis-selling scandals, from PPI to interest rate hedging products.
Stemming from the swap mis-selling saga, Lawrence Tomlinson, an adviser to Britain's business secretary Vince Cable, released a report that alleges that RBS effectively pushed businesses into bankruptcy on purpose for financial gain.
Since the allegations were made, a Treasury Select Committee has launched an inquiry into the matter at RBS and to see if such apparent practices are widespread throughout the industry.
Furthermore, the Financial Conduct Authority (FCA) has kicked off its own independent review of RBS's treatment of business customers in financial difficulty by appointing the Promontory Financial Group and Mazars to conduct the report in January.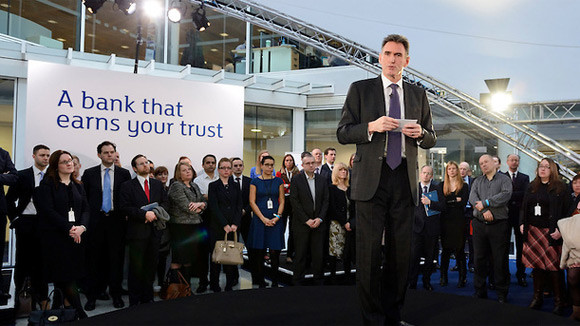 The Tomlinson Report
Tomlinson claimed that RBS pushed businesses into default after moving them into its Global Restructuring Group (GRG).
He added that RBS also profited from their struggles as by moving them into GRG, this can create more revenue for the bank through higher fees and margins.
It can also result in the purchase of devalued assets by its property division, West Register.
Tomlinson runs LNT Group, based in the north of England which has annual revenue of £100m and has interests in construction, software, car manufacturing, and care homes.
"If the banks are engineering defaults as is suggested in the following sections of this report, it is important to remember that this closes all doors for the business," said Tomlinson in his report.
"Once they are moved into GRG they are considered risky. With the increased margins and fees, their cash flow will also be impaired, again making their proposition look less attractive to a competitor bank - even if the business has been artificially distressed due to the actions of the bank.
"If they have been mis-sold a swap, the contingent liability of that swap on their assets may outdate the length of their facility agreement with the banks too.
"When it comes to moving banks they are unable to do so as their assets are all secured against the swap and there is therefore no security available for the new lender. The business will therefore not be able to meet the risk profile of the potential new bank and they are stuck with whatever terms their current bank offers, however onerous they may be."