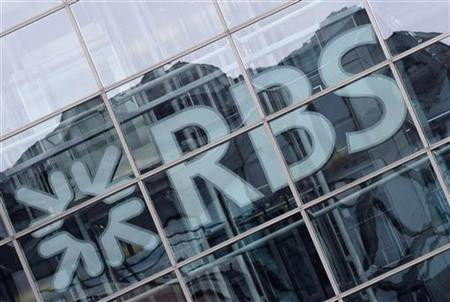 RBS, the Royal Bank of Scotland remain on a 'reduce' rating despite booking a £2bn swing to profit in its Q1 statement.
The bank which is trading at 49.29p today remains on a 'weak sell' at Nomura say that Q1 trading implies that annualised earnings will not reach the levels required to justify the current market cap.
Furthermore, they say that EU-mandated disposals could lose the group up to £2bn further diluting any share earnings.
"Annualising the Q1 profit trends implies EPS of 4.9p in our view." said Robert Law, "However this assumes GBM sustains its Q1 results, which we regard as optimistic."
"We estimate these two factors reduce normalised Profit Before Tax by up to £2 bn from the Q1 run rate, reduce normalised EPS to some 3.7p."
The group's profits remain in-line with expectations with the investment bank predicting lower impairments, non-core ahead and core businesses in line.
"Management indicates on track or ahead of plan." Law said, adding that the group would be unlikely to have surplus capital soon, and that its target price of 31p would remain for now.
Richard Hunter, Head of UK Equities at Hargreaves Lansdown Stockbrokers, offered this comment:
"The update has been subsumed into the wider financial sector weakness this morning, itself a result of the ongoing European crisis and a mini-meltdown on Wall Street yesterday.
Even so, there are some grounds for optimism within the statement, notwithstanding the challenges facing the macro economic environment. The overall loss figure has significantly reduced on a comparative basis, whilst impairments have fallen once again. The Global Banking unit continues to contribute strong profits, although sharply down on the previous year where the trading opportunities were described as "exceptional". The bank remained cautious that any wider recovery was still subject to corrections such as the one currently being encountered, whilst in terms of its overall five year plan, it was on track, albeit with much still to be done.
The shares have had a reasonable run of late, rising 49% over the last three months, although this was from a low base. The overhang of the government holding, little prospect for a return to the payment of the dividend and a difficult return to recovery will all continue to weigh on the shares, with there being little likelihood of an improvement to the general market view of a weak hold."
Both broker and investment bank are more hopeful on Barclays and Lloyds which Law describes as 'better value'.