While Shah Rukh Khan is renowned for his irrepressible charm, it was his turn to be charmed off his feet. The 50-year-old Indian superstar was instantly won over when he met Kate Middleton during a charity gala at the Taj Palace Hotel.
The first day of the royal couple's tour of India culminated in a glittering dinner, attended by 200 of India's leading luminaries from the world of Bollywood. Leading the charge of the Bollywood brigade was the biggest movie star of them all, Shah Rukh Khan. And while Khan has a billion fans around the world, it seems the superstar, who is more accustomed to being the focus of adulation, had his own fan boy moment when he met Kate.
Asked what his first impressions of the Duchess were, Khan told Mail Online: "'Is it ok to say she's extremely beautiful and elegant? Well she is!"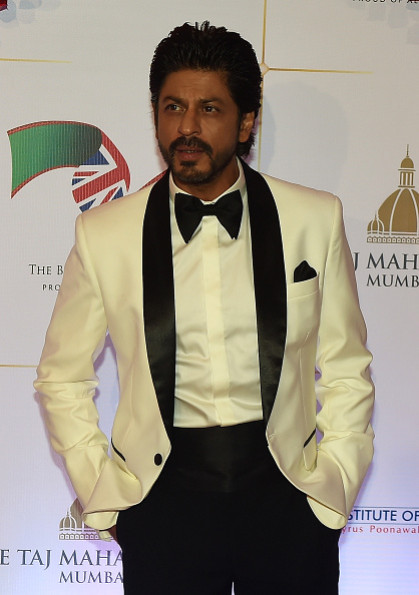 The actor has a close connection with the UK as a result of his vast British Asian fan base. And with a second home in London's exclusive Mayfair and his children attending British schools, they had a lot to talk about.
"This was the first time I'd met them," the actor explained. "He [Prince William] was taking about the collaboration of the British and Indian film industries. I was talking about my kids who are studying in London.
So taken was he with the royal couple, Khan, who incidentally plays an obsessed fan in his next movie titled Fan, even volunteered to personally take them out on the town. "It's a very short visit and I said they should come back and spend longer here. They said they'd love to but they'd had to leave their children at home as their schedule was so jam-packed. If they spend more time here I think they'll love it. I could definitely show them a good time! I'll take them out."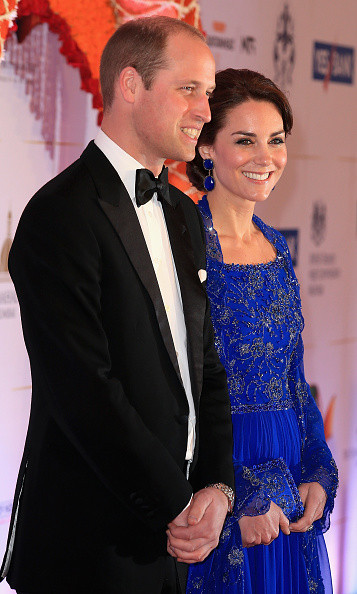 Following a formal introduction, the actor had the honour of being seated beside the Duchess for dinner. And while Shah Rukh Khan's royal date with Kate in fact made her the envy of millions, Prince William did pretty well himself, winning the company of one of the most beautiful women in the world (aside from his own wife) former Miss World Aishwarya Rai Bachchan.
The couple mingled with India's most celebrated personalities, including actors Aamir Khan, Madhuri Dixit-Nene, Shilpa Shetty, director and producer Karan Johar, Slumdog Millionaire star Anil Kapoor with Sonam and Arjun Kapoor, veteran stars Rishi Kapoor and wife Neetu Singh, Hrithik Roshan and Farhan Akhtar all of whom were eager to welcome the royal visitors to their beautiful city.
The evening, which was hosted by The British High Commission in partnership with the British Asian Trust - Prince Charles' charity - and the Taj Mahal Palace hotel, also had a very important objective to raise awareness and funds for three local charities - Childline, Magic Bus & Doorstep.
Tomorrow, the royal tour continues with rather more formal proceedings with the Duke and Duchess meeting with aspiring young entrepreneurs at a GREAT campaign event and laying a wreath at war memorial India Gate in New Delhi. They will pay a visit to the Gandhi Smriti museum at Old Birla House and attend a garden party celebrating the Queen's 90th birthday, where William will make a speech.
While the royals have expressed their delight at the warm welcome they have received in India on the first day of their visit, with their grace and humility, the Duke and Duchess have already won over the people of India. And as the stars of Bollywood took to Twitter to share their excitement at rubbing shoulders with royalty, it seems Kate has found a new fan in Shah Rukh Khan.