Royal wedding anniversary: How William and Kate trumped Charles and Diana as the royal couple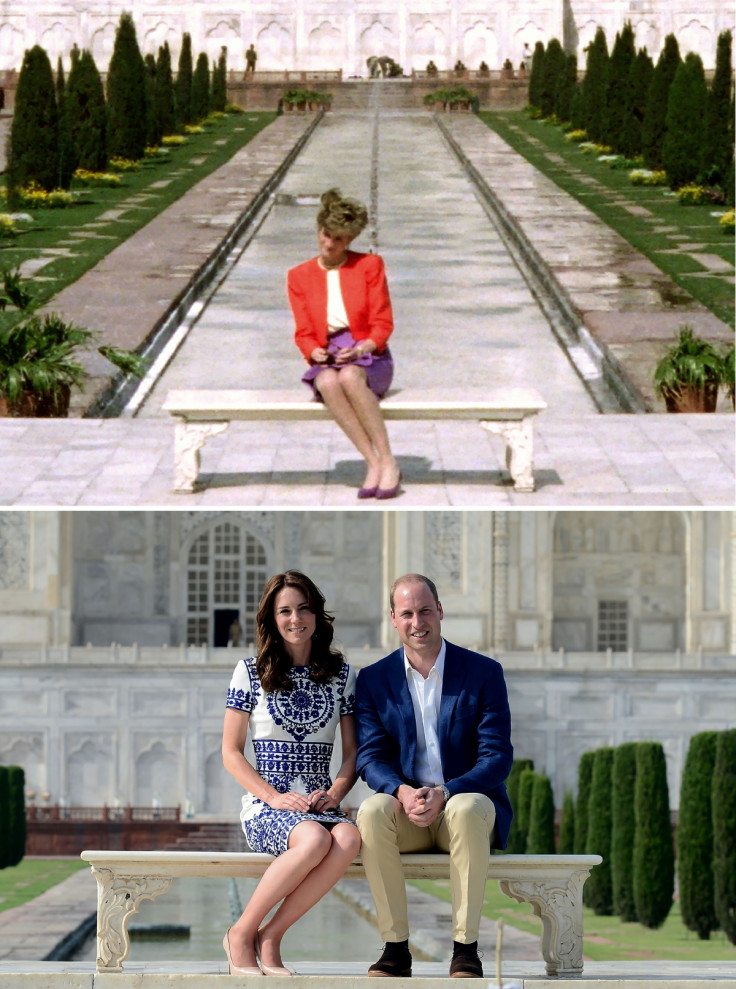 It was the tale of two royal marriages that captured the nation's hearts and imagination. While the Duke and Duchess of Cambridge celebrate their fifth wedding anniversary and still appear to be in the whirlwind of marital bliss, the rot had already began to surface in the matrimonial sepulchre that was Prince Charles and Princess Diana's relationship, merely five years after taking the trip down the aisle.
Reports had already emerged about Charles starting an affair with Camilla Parker Bowles in 1986, according to Jonathan Dimbleby, Charles' official biographer.
"There were three of us in this marriage, so it was a bit crowded," Diana famously stated in a detrimental televised interview with Martin Bashir in 1995. It became the royal family's worst kept secret that Charles had already met, loved and lost the woman who won his heart before proposing to Diana.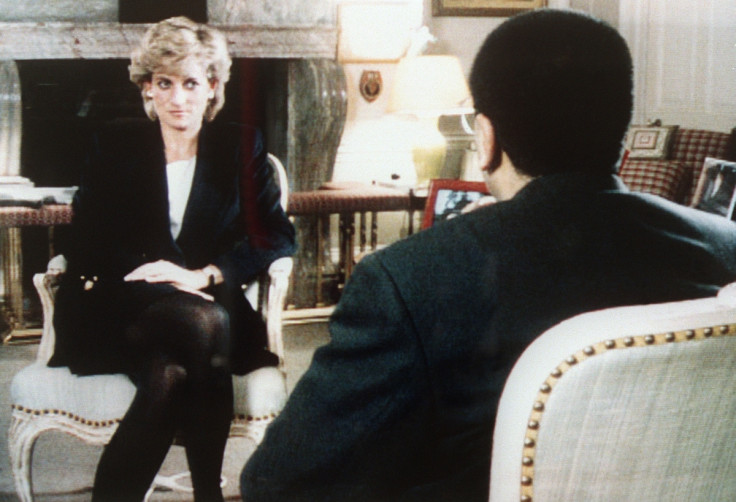 The future queen made a chilling discovery when she stumbled upon a gold chain bracelet with a blue enamel disc that Charles gifted Camilla as a goodbye token. It was engraved with the tormenting letters 'G' and 'F', representing their nicknames for one another, Gladys and Fred. Confronting Charles and voicing her dismay about the present, Charles ignored her wishes and proceeded to give it to his former lover just two days before his wedding.
But it is all very well to claim how unhappy Charles and Diana were in retrospect, and it is unfair to compare their marriage to their son's in a vastly different era. As Lady Diana Spencer was shuffled under the much-pressured Charles' nose as an 18-year-old aristocratic blank canvas, Prince William first clapped eyes on middle class Kate Middleton at a University of St Andrews catwalk show in a diaphanous mini dress.
Through his studies, William had the freedom to develop a friendship with Kate that subsequently blossomed into a budding romance in 2003 and later marriage, when he was ready of course, with the pair tying the knot on 29 April 2011.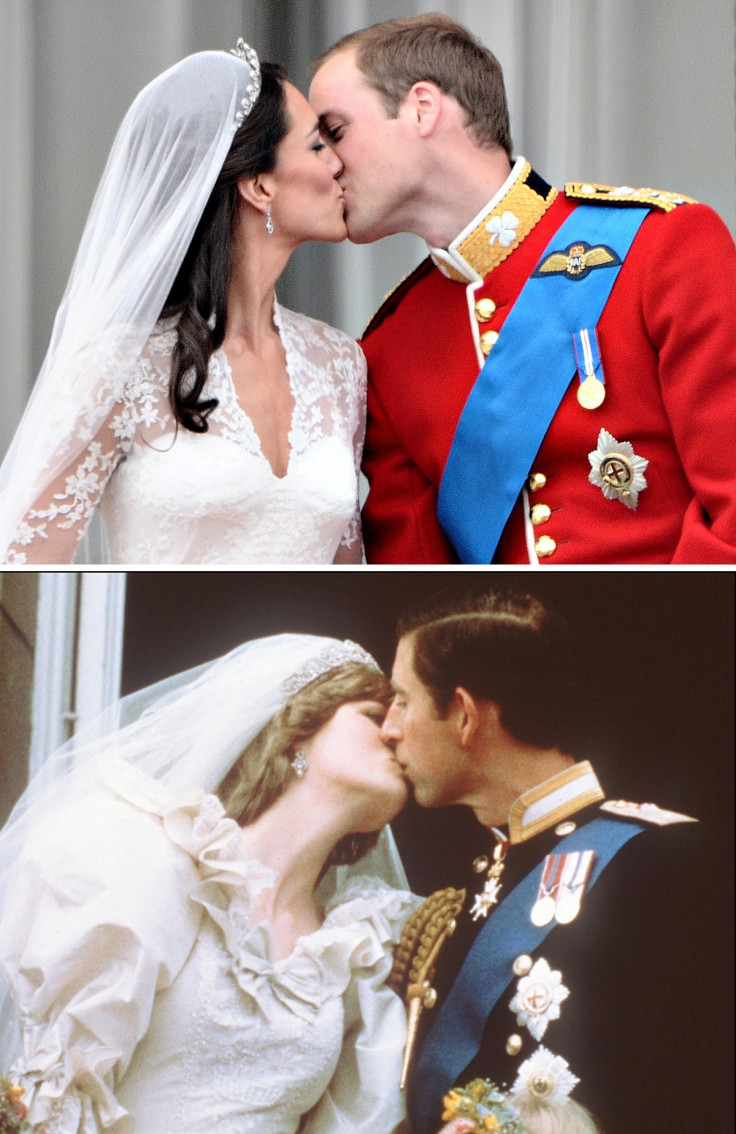 What is interesting, however, is how Charles and Diana's deeply troubled marriage, plagued with rumours of infidelity, depression and bulimia amongst other woes, was kept under wraps for so long. When early press shots of the couple are put next to recent photographs of William and Kate, or perhaps any other recently married couple, their body language signals radiate emotional turmoil.
As William and Kate often lock eyes, have private jokes and physical contact, the deterioration of Charles and Diana's anguished marriage was so apparent in their acutely frosty exchanges that it was almost an act of genius that they hoodwinked the public.
Body language and relationship expert Judi James analysed pictures of the royal couples, and claimed that the first impressions of the doomed royal couple were positive. She told IBTimes UK: "Crusty bachelor Charles looked genuinely smitten with his young bride. It was cute and funny to see this very non-tactile man going through the normal honeymoon phase when Diana gazed at him like a swooning and rather shy Mills & Boon heroine."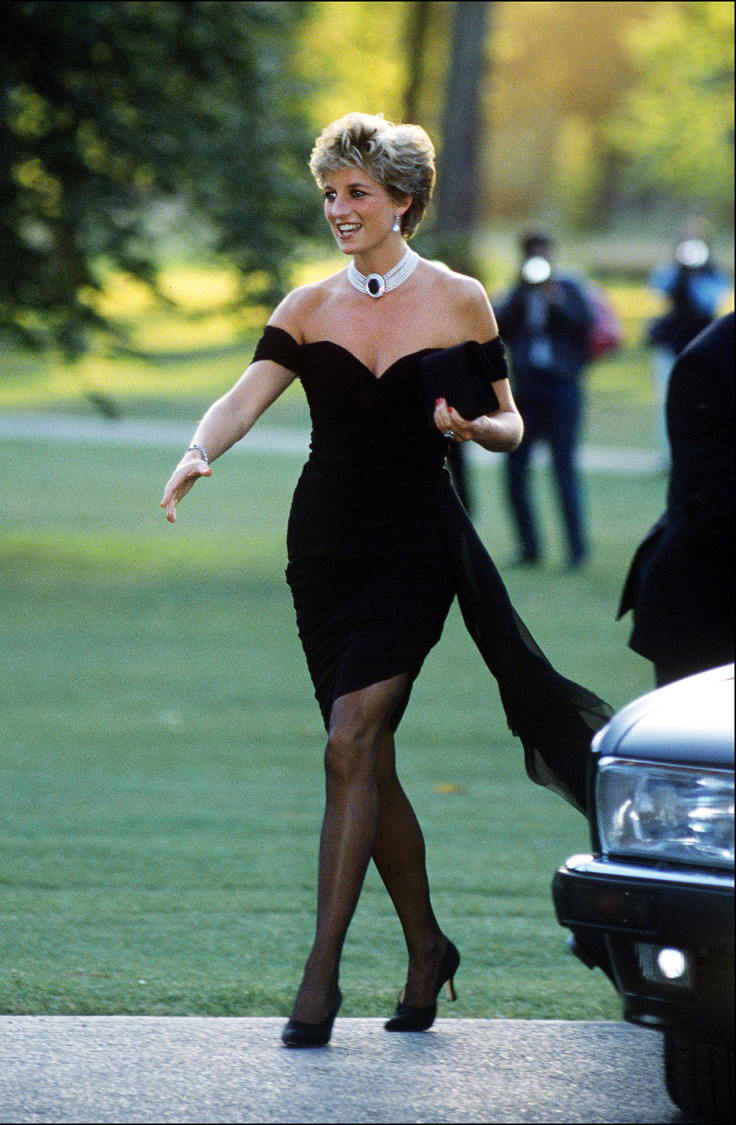 As snaps of William and Kate depict a healthy power balance and an alliance that can do both formal and fun with a splash of sporting competitiveness, Charles struggled with the public's ever-growing adoration for the mother of his two children. While Kate recycles outfits, albeit from the likes of Alexander McQueen to Reiss, she makes a point of not overshadowing her husband, while Princess Diana had no such care and revelled in the limelight.
Her signature look was cleavage-baring off shoulder dresses, including one named the 'revenge' dress in 1994, designed by Christina Stambolian. At this stage, numerous scandalous books and tapes about the royal marriage had been published. A fashion rebellion, some might say.
What was once regarded as a mystery, the breakdown of Charles and Diana's marriage could not be more crystal clear as a modern royal relationship unfolds and evolves before our eyes.
---
Judi's verdict: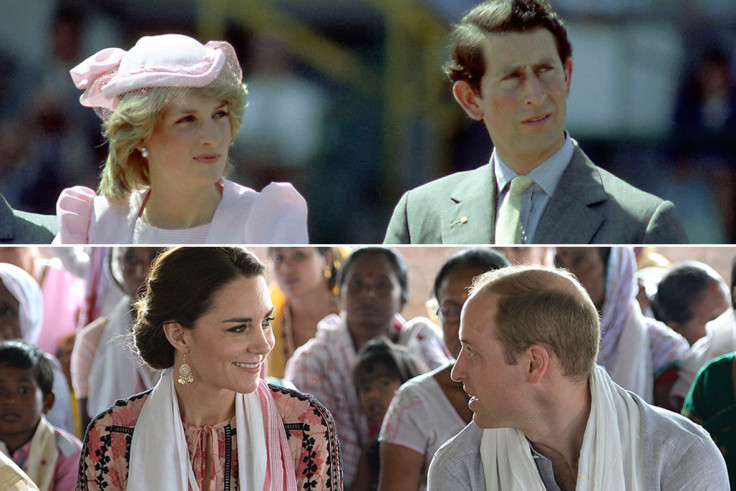 C&D: There was a slight degree of mirroring between Charles and Diana but often their poles-apart personality traits shone through. 'Like-bodied' should imply 'like-minded' but any postural mimicry between Charles and Diana tended to look accidental rather than a sign of deep rapport. Here, their hands seem locked into poses that avoid touch.
W&K: In India William and Kate took care to be sociable and also formal when necessary but mostly their moments together involved constant communication between them, using both eye contact and postural proximity, i.e. leaning in towards one another to register intellectual and physical closeness. When they caught one another's eye, their facial expressions changed and softened, which is a phenomenon known as 'the look of love'.
---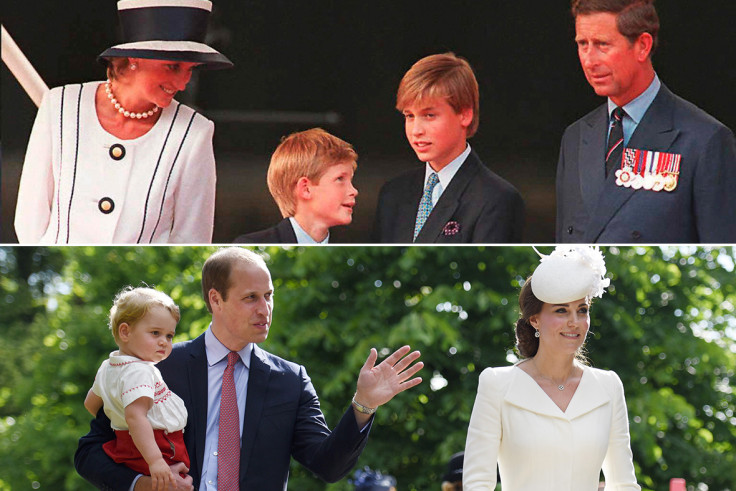 C&D: Children always change the body language dynamic, creating a separation between parents as they flank their offspring in an act of protection. This line-up of Diana, the boys and her husband is natural then, but although Diana leans forward to confirm the close family feel she only seems to get the attention of her boys. Her expression of love is written all over her face but Charles's response is negligible. Despite Harry seeming to be keen for some fun, Charles's pose and facial expression makes him look isolated and sad here. His isolation looks voluntary too.
W&K: William seems at great pains to be a tactile, hands-on dad who re-jigs his expanding family unit to create a much more easy-going sense of balance. Kate looks relaxed and happy here and George is clearly comfortable being led around by his father.
---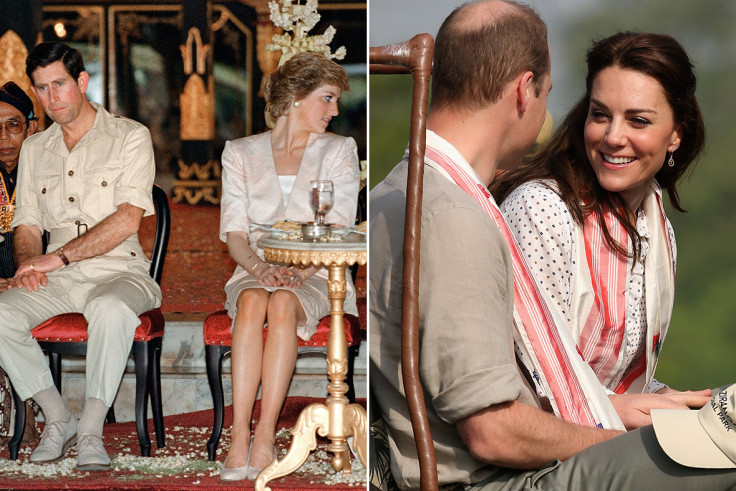 C&D: Towards the end of their marriage the royal couple did not just hint at a split, they painted a full-colour portrait of their misery via their body language. The public had been led to believe that a royal prince could never divorce but the agony etched on their faces here made it obvious we were seeing the end of the 'love' story rather than just witnessing a series of spats.
W&K: William and Kate are tactile and their happiness seems to feed off one another. Even five years on they are still - if not more - competitive and she seems to have been a fantastic stand-in for William's biggest life pal, his brother Harry. When William and Kate sit together like this, they intensify their bonding signals like eye contact, with Kate still gazing straight into William's face to share her smile. This suggests an emotional feeding off one another that is thankfully a million miles away from poor Charles and Diana.
© Copyright IBTimes 2023. All rights reserved.