Forget John Lewis' Moz the Monster, the RSPCA are pulling on heartstrings with their latest television advert with a profound message about animal cruelty.
The tear-jerking clip stars a mistreated toy dog named Woody that highlights the kindness of the staff working at the RSPCA. The stuffed pooch acts as a powerful metaphor in its representation of the animals the organisation works with – which include exotic pets and horses as well as dogs.
The advert is also set to raise awareness over the Christmas period, as the RSCPA prepared to deal with approximately 2,000 calls a day. It begins with Woody initially being adored by a little boy when he is given as a festive gift.
He never leaves the child's side until one day, he is soon left in a park in the rain and mud. After being dumped on a pile of rubbish bags, with a rip in one of his legs, things are looking bleak for Woody until an RSPCA worker scoops him up and takes him to safety.
He is tended to by a vet and cleaned up before the last shot shows him as a real, fully-grown Labrador relaxing in a living room with a blanket over him.
The advert also features an emotional cover of Simply Red song stars, which is performed by RSCPA worker Lucy Ellie.
Deborah Caffull, manager of the charity's Birmingham animal centre where part of the film was shot, said: "While this video shows the tale of a toy dog - the sentiment behind the story is very real. "We rescue, rehabilitate and re-home dogs just like Woody every day, all year round."
She added: "This time of year is very busy for us as an animal rescue charity and everyone pulls together to help the animals that come into our care."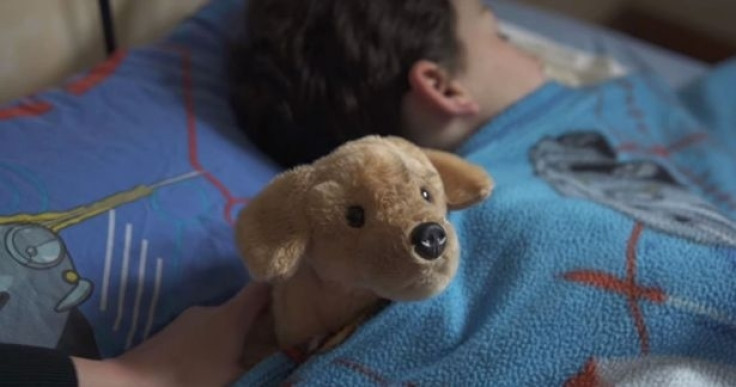 The public have taken to social media to comment on the advert, with one person tweeting: ''Why did I watch it?! Crying now. A really good advert and I hope it makes people think. #KindnessatChristmas.''
Another added: ''I just saw the RSPCA Christmas advert and now I'm not OK.''
While a third put: ''Watching the RSPCA's Christmas advert and it makes me question how anyone with a heart could abuse an animal.''