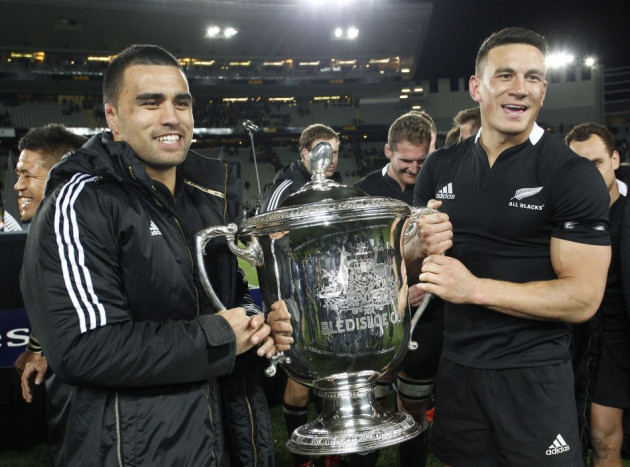 England and Australia meet in the first game of the 14th World Cup at the Millennium Stadium on Saturday in the first of a double header in Cardiff that also sees Wales take on Italy.
There will be some 28 matches played in England, Wales, Ireland and France with the final at Old Trafford on 30 November, with Australia the clear favourites to win the trophy.
The Kangaroos suffered a shock 34-20 defeat in the final of the last World Cup held in 2008 as New Zealand won the trophy for the very first time thanks to a memorable performance from Benji Marshall.
The reigning champions could well be a force once again after being buoyed by the late inclusion of dual-code international Sonny Bell Williams who helped Sydney Roosters win the NRL title.
Williams, who is also a professional heavyweight boxer, is hoping to become the first player ever to win World Cups in both rugby league and rugby union.
"From the start of this season, there was a lot of pressure. I had everything to lose and the pressure was firmly on me," he told the BBC.
"I guess I kind of thrive on that. It gets the best out of me. I seem to be able to push that to one side and focus on all the little things."
However, it is Australia who remain the heavy favourites as they boast a team full of world class talent, including the likes of Cameron Smith, Billy Slater and Cooper Cronk.
Head coach Tim Sheens will look to kick off with a win but is aware that England could well be a wounded beast after losing a final warm-up game to Italy.
"I know Steve [McNamara] will be disappointed but, to me, a side that's embarrassed is a dangerous side," said Sheens.
"I saw what I wanted to see, but, as far as the result is concerned, that's for England to worry about, not me. My concern is to make sure that we're on song for our first game."
Italy stunned England by winning 15-14 at Salford despite being the second lowest ranked team in the World Cup.
The Azzurri have been drawn in Group C alongside Scotland who can call upon one of the best players in the Super League in Huddersfield Giants half-back Danny Brough.
"You don't get the Man of Steel by not being a good player," said Scotland coach Steve McCormack. "We're not a team of superstars, but we're a team of really good players that work very hard together. Danny is at the head of that. He works exceptionally hard."
Wales are making their third appearance in a World Cup and coach Iestyn Harris believes his side can be a genuine threat.
"The crucial thing for us is to get out of the group," said Harris. "We've got three difficult opponents. When you get through your group, then it's knockout football and that's where you want to be."
England will be hoping to make a statement in their first game against Australia and will be looking for a major impact from the Burgess trio of Sam, George and Thomas who all play for NRL side South Sydney Rabbitohs.
They will be joined in Australia next year by former Wigan full-back Sam Tomkins who make the move to the NRL next season. The 24 year old is keen to cap a perfect year with a World Cup triumph after an unbelievable season with the Warriors where he won the Challenge Cup and tasted glory in the Grand Final.
Groups A and B contain the stronger nations and are made up of four sides, while Groups C and D have just three teams in a format designed to ensure every team in the competition has a genuine chance of gaining a victory.
Group A fixtures
26 Oct Australia v England, Millennium Stadium, Cardiff
28 Oct Fiji v Ireland, Spotland Stadium, Rochdale
2 Nov England vs Ireland, John Smith's Stadium, Huddersfield
2 Nov Australia v Fiji, Langtree Park, St Helens
9 Nov England v Fiji, KC Stadium, Hull
9 Nov Australia v Fiji, Thomond Park, Limerick
Group B fixtures
27 Oct Papua New Guinea v France, MS3 Craven Park, Hull
27 Oct New Zealand v Samoa, Halliwell Jones Stadium, Warrington
1 Nov New Zealand v France, Parc des Sports, Avignon
1 Nov Papua New Guinea v Samoa, MS3 Craven Park, Hull
8 Nov New Zealand v Papua New Guinea, Headingley Carnegie Stadium, Leeds
8 Nov France v Samoa, Stade Gilbert Brutus, Perpignan
Group C fixtures
29 Oct Tonga v Scotland, Derwent Park, Workington
3 Nov Scotland v Italy, Derwent Park, Workington
3 Nov Tonga v Italy, The Shay, Halifax
Group D fixtures
30 Oct US v Cook Islands, Memorial Stadium, Bristol
3 Nov Wales vs US, Glyndwr University Racecourse Stadium, Wrexham
3 Nov Wales v Cook Islands, The Gnoll, Neath
Group C/D fixtures
26 Oct Wales v Italy, Millennium Stadium, Cardiff
5 Nov Tonga v Cook Islands, Leigh Sports Village, Leigh
7 Nov Scotland vs US, Salford City Stadium, Salford
Quarter-finals
15 Nov Winner B v Winner C, Headingley Carnegie Stadium, Leeds
16 Nov Winner A v Winner D, Glyndwr University Racecourse Stadium, Wrexham
16 Nov Runner Up A v 3rd Place B, DW Stadium
17 Nov Runner Up B v 3 rd Place A, Halliwell Jones Stadium, Warrington
Semi-finals
23 Nov Winner QF 1 vs Winner QF 3, Wembley
23 Nov Winner QF 2 vs Winner QF 4, Wembley
Final
30 Nov Winner SF 1 vs Winner SF 2, Old Trafford