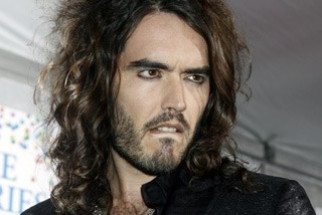 Russell Brand admitted that he once pleasured a man in a London pub as part of his documentary about social taboos.
The British comedian revealed the gay encounter, which he filmed for RE: Brand in 2002, during a recently-recorded podcast he posted online.
He explained that he was keen to explore the boundaries of his heterosexuality by having a sexual experience with someone of the same sex.
"I thought, 'I think of myself as heterosexual but perhaps that's 'cause of the environment that I grew up in where homosexuality may have been difficult for me to express.'" he told fans.
"I trawled around Soho (in London)... going (to) various gay bars, gay gyms, trying to pick people up with a film crew. I went in this pub and I goes (sic): 'Anyone want me to w**k them off?' And this bloke goes, 'Yep...' So we goes to the lavvy (restroom) - me, him, the director."
Brand, who was previously married to pop star Katy Perry, admitted that when confronted with the task at hand he felt uncomfortable.
""He gets his willy (penis) out. And it was not nice. The phallus is... I like mine and you see some others in paintings that look all right but his looked like a rag... It were (sic) like massaging a naked mole rat and it wouldn't go hard!"
Despite not enjoying it, the Forgetting Sarah Marshall star admits his ego spurred him to want to satisfy his sex partner and bring the man to climax.
"He goes, 'I think... it would be easier if I was able to touch yours'. And I (thought), 'F**king hell mate, do us a favour!' And the director goes, 'Go on Russell, it would be funny...' So I take down my trousers and pants... and then the bloke sort of mauled at my genitals while I w**ked him off.
" I'm such a sex narcissist that, even though I'm not gay, I still wanted to be good at giving him a w**k."
Brand's revelations come weeks after transgender star Lauren Harries revealed her alleged fling with the notorious lothario.
Harries claimed that she had a brief fling with Brand after they met during the seventh series of Big Brother in 2006.
Brand denied the allegations. "With respect to the ol' transgender community, I didn't have it off with the antiques kid," he tweeted.