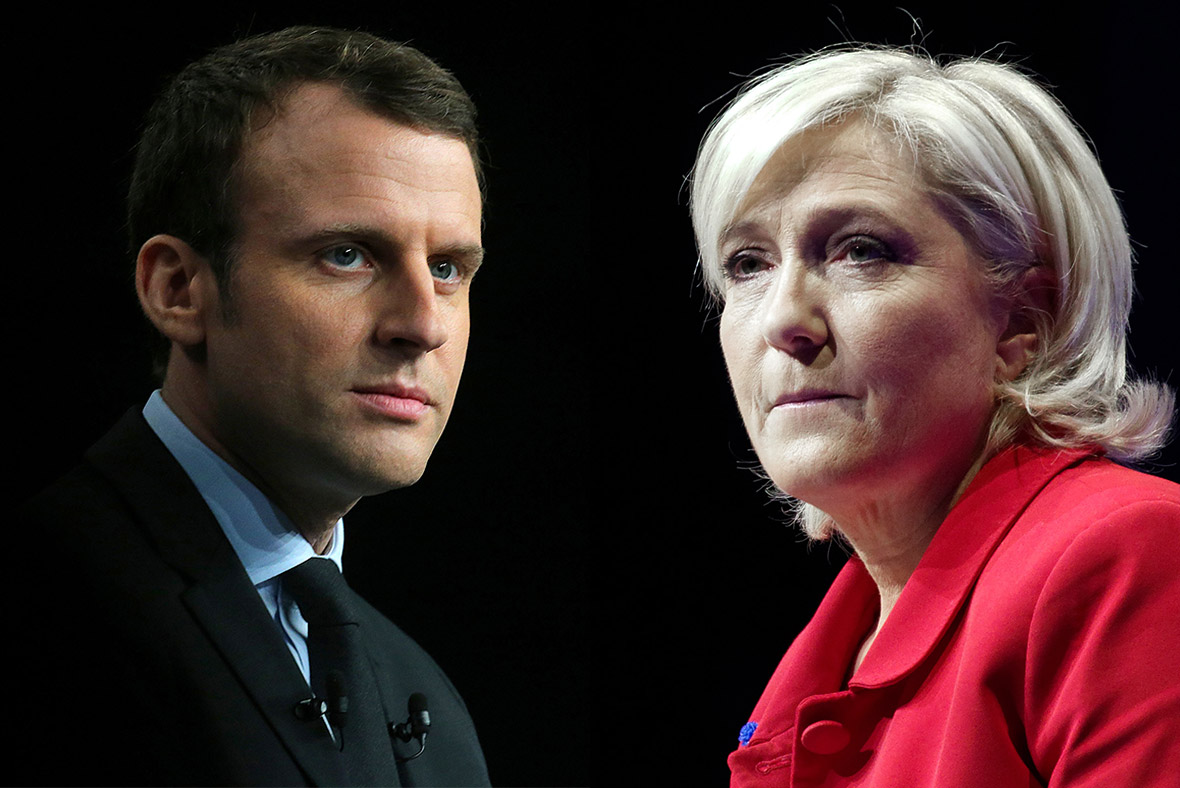 A 200-strong collective of French-language Twitter accounts were involved in a coordinated campaign to spread misinformation by using "fake news" from troll-website 4Chan to damage the reputation of presidential candidate Emmanuel Macron, it has been claimed.
On 3 May, during a heated TV debate between the current frontrunner and his far-right opponent Marine Le Pen, it was alleged – without evidence – that Macron had evaded paying taxes by storing cash offshore. It took less than 24 hours before the accused filed legal action for defamation.
After the incident questions emerged, namely, who started the rumours and how did they spread so quickly. Fingers ultimately pointed towards the Kremlin.
"This is typical of fake news," Macron said in a radio interview with "France Inter" on Thursday (4 May).
"Marine Le Pen comes up with this. She has troops behind her on the internet who take up positions. Some of these sites are linked to Russian interests. People talked and got organised," he added.
Some commentators, including Nicolas Vanderbiest, a PhD assistant at Belgium's Louvain University studying the influence of social media, suggested the entire scheme was a Russia-led operation.
"So the fake news story on Macron's account in the Bahamas, we can say without being misleading, that it was by the Russians," he tweeted. Attached to the post was a slew of profile images he alleged were working to spread pro-Trump and pro-Russian propaganda.
Macron's team said in a release to French media this week (4 May) it located the source of the leak. It dug up posts on 4Chan, a notorious website frequented by trolls and pranksters, featuring one user claiming to have "documents proving the tax evasion of Macron" that was then amplified.
According to The Times, a spokesperson for Macron said the messages were spread online by a "militant pro-Trump Twitter user" called Nathan Damingo and then picked up by over 200 accounts known to promote articles from RT and Sputnik, two Russian state-funded news outlets.
Echoing the rise of Donald Trump's use of Twitter, the story spread with the use of hashtags, including #MacronCacheCash, which tried to make the accusations go viral. Later, a spokesperson said that Macron was the victim of a "cyber misinformation campaign."
"This is how fake news makes its way in a few hours to the heart of the French presidential campaign," a statement read, provided to Bfm TV.
It is the latest in a long line of allegations levelled by Macron's team at the Kremlin, all coming after the alleged Moscow-led operation hit the US presidential election last year. Earlier this year, Russia was accused of spreading the claim that Macron was in a homosexual relationship.
In February, the Financial Times (FT) reported Richard Ferrand, Macron's campaign manager, said the team had been hit by "hundreds and even thousands" of hacking attempts. In April, Trend Micro, a cybersecurity firm, said a known cyberespionage group tried to infiltrate staffers' emails.
In additional, social media giant Facebook was forced to take down tens of thousands of accounts earlier this year believed to have been used to spread anti-Macron propaganda. Dmitry Peskov, spokesperson for Russian president Vladimir Putin, branded all such claims as "fake news."
In January 2017, the US intelligence community said Russia's "state-run propaganda machine" including the two aforementioned TV channels, were used in state operations ordered by president Putin. "Moscow will apply lessons [...] to future influence efforts worldwide," it warned.