As the Élysée Palace spruces up for its new occupant and calls time on President François Hollande's unpopular presidency, political protagonists Emmanuel Macron and Marine Le Pen, who are vying for the presidency, are lucky on one count – the French aren't rating them on economic competence.
They are merely choosing the least-worst option out of two candidates who have none, judging by their election pledges and past histories. To quote the OECD's assessment of the French economy in 2015: "The fiscal situation is weak, with chronic deficit, considerable government spending, correspondingly high taxes and rising public debt."
Yet, despite brief flirtations with austerity under Hollande, France still has one of the highest public spending ratios – at 57% of GDP – of any advanced economy. How do you resolve the economic quandary? Taxation perhaps?
Not quite. According to independent experts ranging from think-tanks to investment banks, to even the European Commission, there is hardly any room in France to raise taxes further.
At 33.33%, France's corporation tax is the highest among advanced economies, and even if it progressively falls to 28% by 2020 as suggested, the figure would still be among the higher rates in Europe.
Unemployment remains a chronic problem, with around 43% of those unemployed having been without a job for more than a year, and 80% of all new employment contracts inked over the last quarter being shorter than one month; France's own version of zero-hours contracts that cause so much consternation in a much healthier UK jobs market, which has its own issues with wage growth.
As consequence, French voting patterns point to the same level of disillusionment, fracturing and anti-European Union sentiment that's visible from Italy to the Netherlands. In the first Presidential election round, only 49.44% of French voters backed broadly pro-EU candidates, i.e. Macron, Francois Fillon and Benoit Hamon, while 49.31% voted for far-right or far-left candidates.
Hollande's chief economic mis-manager
Many blame Hollande for the country's economic malaise, and at his side from August 2014 to 2016 was his Minister of the Economy, Industry and Digital Affairs – Macron, a former economic adviser and Rothschild & Cie Banque investment banker before he took ministerial office.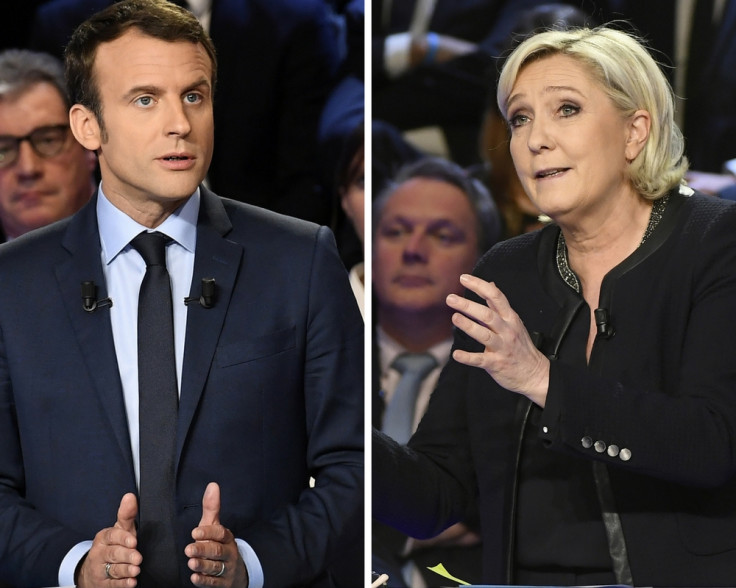 In the stated period came some of the worst French economic policymaking decisions of one of the most unpopular presidents in French history, including proposal for a 75% 'supertax' on earnings above €1m, which was quietly lowered to 45% after yielding meagre returns.
Yet in April 2016, the same Macron, always by Hollande's side, founded En Marche!, a so-called liberal progressive movement calling for a democratic revolution to "unblock France." After much dithering, having declared his candidacy for President in November 2016, only in March, a mere month before the first round of voting, did Macron reveal his plans for the economy.
Among other fuzzy proposals is a Macron plan to cut France's headline corporation tax rate from 33% to 25%, with little costing analysis provided. He also proposes to boost French GDP by investing in a five year-plan that will see €50bn (£42.4bn) invested in farming, transport, infrastructure, renewable energy and the healthcare.
Now if you wondered where the money would come from, Macron also proposes €60bn in public spending and efficiency savings, which French unions would fight tooth and nail. And in any case, since public capital outflows and efficiency gains cannot be run simultaneously, will come something successive French presidents have grown accustomed to – borrowing.
Of course, unlike his Front National rival, Emmanuel Macron is fully committed to the EU, and is being dubbed by the French media as the most pro-EU politician in recent memory, thrust on a country that's split right down the middle on its affections for the bloc, akin to the UK, Italy, Netherlands and so on.
Le Pen's magic calculator
However, if you thought the anti-EU far right Le Pen was any more economic competent than Macron, then think again. Le Pen says her presidency will target 2% GDP growth by 2018. That's well above current economic forecasts by the Bank of France at 1.4%.
Furthermore, she aims to grow the GDP by 2.5% by the end of her five-year term, but despite having shouted out the headline numbers via megaphone, the details provided are even thinner on the ground than Macron's waffle. She also wants tough negotiations with Brussels on "radical changes" to the EU, and a referendum in favour of a possible "Frexit."
And that's not all, by 2022-23 Le Pen wants to reduce France's public deficit from 4.5% (using 2017-2018 projections) to around 1.3%. Yet, she is also promising cut taxes, including a 10% cut to income tax on the three lowest wage bands in France – the "forgotten hard workers". In tandem with it would come proposals to lower France's retirement age from 62 to 60, and the pension burden that comes with it.
I am no expert in French politics, but based on my humble understanding of macroeconomics, unless Le Pen has some kind of magic calculator, the sums don't quite add up despite her insistence that they do.
There is also a word of caution in this sorry saga for foreign exchange investors pricing in the stability of a Macron victory, and the rejection of Le Pen's "extreme views." The latter is not a spent political force, says City Index analyst Kathleen Brooks.
"It is worth remembering that France has National Assembly elections in June, and if Macron can't get enough of his En Marche! members elected, and the Front National increases its number of seats, then Marine Le Pen is likely to remain a major force in French politics."
Atop what Brooks flags up, it is also worth noting that Fillion's and Hamon's backing of Macron at the final presidential poll would count for nothing when assembly elections commence. Both the socialists and conservatives, who have considerable support, will tough it out in their strongholds with a nascent En Marche and a boisterous Front National.
The resultant shape of the assembly will drive the economic agenda, and the new president will have his work cut out. Hence, any premature market calm belies a lack of understanding of the French political system. An elitist centre-ground poster boy and right-wing bully pulpit screamer toughing it out for the highest office in the republic, at such a precarious time for the French economy, should fill no one with confidence.
---
Gaurav Sharma is the Business Editor of IBTimes UK. He has been a financial journalist for over 15 years, with a core specialisation in macroeconomics and commodities. Follow Gaurav on Twitter.
---