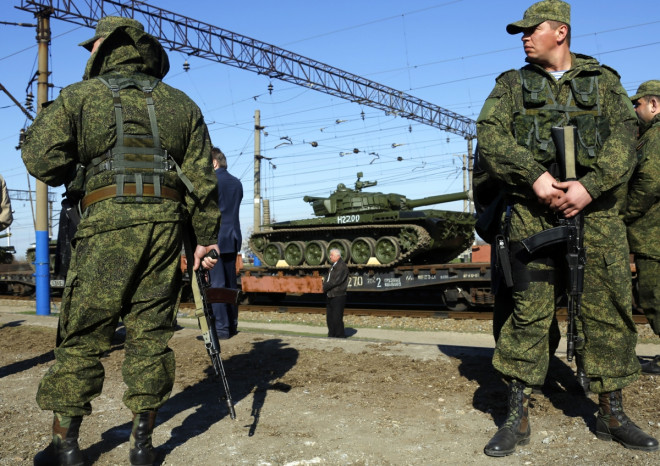 Two dozens Ukrainians have been arrested by Russia's secret service over alleged plans to carry out sabotage acts, a state-controlled Russian TV station reported.
Russia's Federal Security Service (FSB) confimred it had detained 25 Ukrainian citizens suspected of planning terrorist attacks in a number of Russian cities.
"According to the information from the secret services, the terrorist acts were due to take place from March 14 through to March 16 in the Rostov, Volgograd, Tver, Oryol, and Belgorod regions, as well as in the constituent republic of Kalmykia and Tatarstan," NTV said.
The TV report claimed the 25 had already confessed to be acting on the instructions of the Ukraine's Security Service (SBU). A spokesperson for the SBU denounced the claims as "nonsense."
Among their alleged missions was to make contact with Russian "radicals" and photograph Russian military movements on the border with Ukraine.
Video footage aired with the report showed three suspects in custody although there was no word on their names or on the date of the arrests.
NTV television said that three members of Ukraine far-right Right Sector group were among the 25 detained.
The role of the Ukrainian nationalists, including members of Right Sector, in post-revolution Ukraine was seized upon by Russia to argue Kiev had been taken over by fascists and neo-Nazis, thus justifying Moscow's military intervention to protect ethnic Russians in Crimea.
The report came amid fears the Kremlin is looking for another excuse to invade Ukraine's mainland after it took over the southern Ukrainian peninsula last month.
Moscow has denied it intends to do so but has amassed some 50,000 troops on the Ukrainian border.
Earlier this week Nato's top military chief Philip Breedlove warned that Russia was ready to invade and could "accomplish its objectives" in three to five days.
At the end of March, Russian authorities said they arrested a Ukrainian national who planned to start a guerrilla war in Russia. The incident was also blamed on Kiev post-revolution authorities.
"The so-called Ukrainian leadership is making direct threats of what they call a 'guerilla war' on the territory of Russia and a question arises in this connection on whether or not we're ready for this," Nikolai Ovsiyenko, a deputy plenipotentiary representative of the Russian President in the Central Federal District was quoted as saying by Itar-Tass news agency.