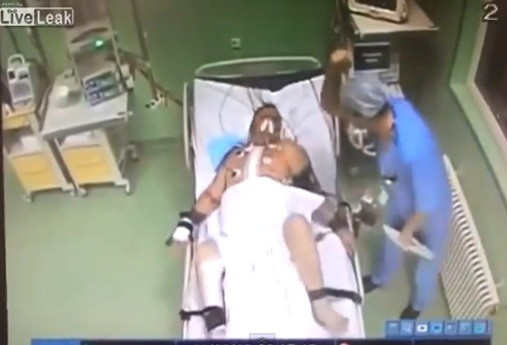 A doctor in Russia has been filmed punching a patient in the chest hours after he underwent heart surgery because he called him names.
Dr Andrey Votyakov, an anaesthesiologist at a hospital in Perm, was filmed speaking to the restrained patient before hitting him in the face and then slamming his fist onto the man's chest.
The patient is shown flinching, unable to escape the attack.
The man later died and a police investigation has been launched after the footage was released online.
The incident took place in February and Votyakov, who previously had an unblemished record, was fired after the film went viral online.
Responding to the footage, the doctor said he had hit the unnamed man, who was over 45 and from the Kirov region, because he was rude.
He added that he lashed out because the patient had not said thank you for his treatment and that he was tired.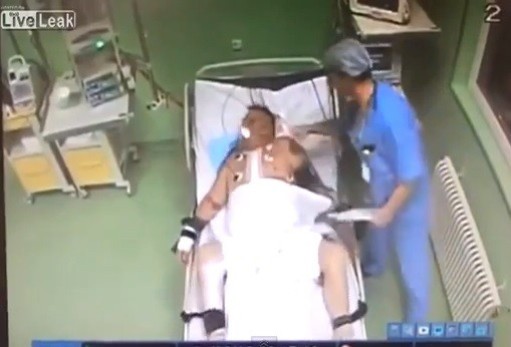 According to the Daily Mail, he said: "It was a hard day after a 24-hour shift. As soon as I came into the room with my team he started to call me various derogative names. And I just got blown away by it.
"We had spent so much time with his very complicated case to help him recover and he said not a single word of gratitude. And then the chronic tiredness added to it. I got carried away, and I punched him several times at the presence of my colleagues.
"We continued the treatment after the incident, but sadly the patient died. I am very sorry for what happened and I want to apologise first of all to the patient himself and his family."
The footage does not show any of Votyakov's colleagues intervening in the attack and a police spokesman said they will be questioning members of the medical team to find out what happened.
"We saw the video which went on YouTube. We are investigating it and checking the details of what happened. [We will be] checking if the medical help after the attack was given on the highest level."