Russia has reportedly proposed that the jailed Ukrainian pilot Nadiya Savchenko be released in a prisoner swap deal that includes the convicted arms dealer dubbed 'the Lord of War' Viktor Bout. In a case that caused uproar with the European Union and Washington, a Russian court convicted Savchenko of involvement in the fatal shelling of Russian state television reporters in east Ukraine and jailed her for 22 years.
Savchenko denied the charges and held hunger strikes during the trial after which Kiev has been pushing for a prisoner exchange.
A source told the Russian news agency Interfax that "confidential consultations" of a possible prisoner swap were ongoing and that Russia had "proposed a list of their citizens," which included Bout and the pilot Konstantin Yaroshenko, who was jailed on drug charges after refusing to testify against Bout.
"Exchanges of one person for several [people] have taken place before. In the case of Savchenko, the issue is about a convict sentenced for a grave crime – the murder of Russian citizens. Those whom she may be exchanged for killed no one," the source said.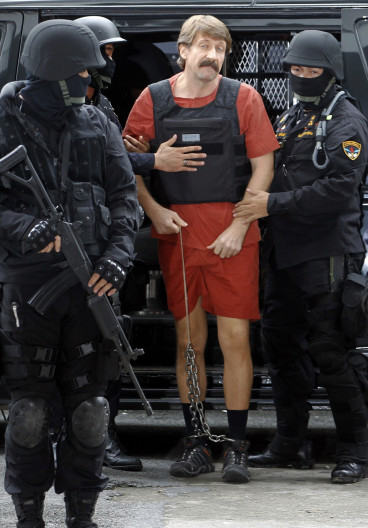 Bout was arrested in Bangkok on 6 March, 2008 and was extradited to the US in 2010 where he was jailed for 25 years for conspiring to sell arms to Columbian rebels. He was the inspiration behind the Hollywood film Lord Of War, starring Nicholas Cage.
Kremlin spokesman Dmitry Peskov said on 29 March that no decision regarding a prisoner swap had been made, although Bout's imprisonment in the US had been discussed in a meeting between President Vladimir Putin and Secretary of State John Kerry when they met on 24 March.
Meanwhile, the US Ambassador to Ukraine Geoffrey Pyatt dismissed the prisoner swap as "ridiculous" because Savchenko had been held in Russia illegally.
Pyatt said on Tuesday 29 March that Russia must release Savchenko and an offer by Ukrainian president Petro Poroshenko to swap her for two Russian military officers was "generous".
Savchenko was accused of directing artillery fire at the journalists on 17 June 2014, although she argued that mobile phone evidence showed she was not present at that time.
Amnesty International said her case was "deeply politicised".