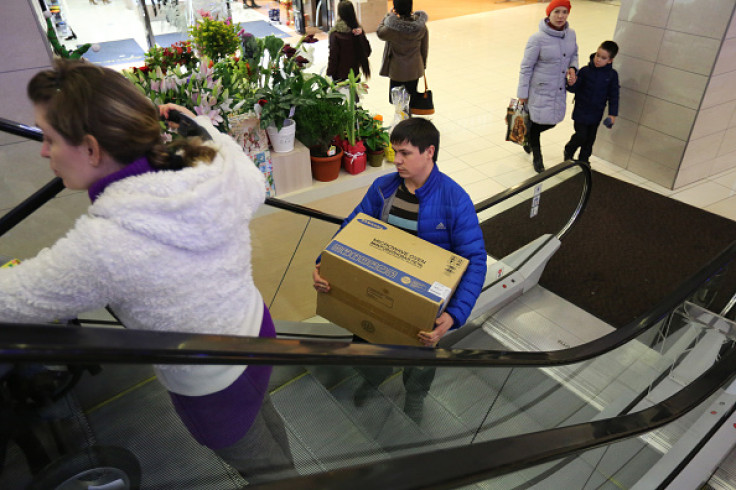 Following a drastic fall in the value of the ruble, people across Russia are queuing up at stores to stock up on everything, from cars and TVs to furniture and jewellery, after being warned of major price hikes over the weekend.
As fear takes over Russia with the ruble hitting an all-time low of 85 to the dollar at one point yesterday (16 December), Ikea stores were seen flooded with shoppers following the announcement that the company will also introduce price hikes starting tomorrow (18 December), reported MailOnline.
Anna Trofimova, the PR Head at retail giant Media Markt said, as reported by RT News, that there was, "a considerable rise in demand on TV and Home appliances. Sales of TV sets have risen more than twofold."
While stores cashed in on panicked shoppers, online businesses took a blow with Apple suspending its online sales citing, "extreme fluctuations in the value of the ruble...". making it impossible to fix prices online.
Applie iPhones and iPads were sold at prices nearly $100 lower than in the US following the drastic fall of the ruble.
"As soon as euro started rising, we sold all cars, even the most expensive," said a BMW sales representative in Barnaul, southern Russia, while the official Volkswagen dealer in Barnaul said, "only several cars" were left in the store on Tuesday (16 December), reported RT News.
The Russian economy has taken a major hit following the combination of international sanctions in the aftermath of the Ukraine crisis and the falling oil prices.
Many tactics have been employed in trying to save the Russian economy with the Central Bank raising the interest rates from 10.5 to 17 per cent, yet the panic hasn't subsided.
As the Russian ruble continues its volatile trend, international investors are seen pulling their assets out of the country further pushing the value of the currency down.
"This is a very dangerous situation, we are just a few days away from a full-blown run on the banks. If one does not calm down the currency market right now, the banking system will need robust emergency care," read a statement published on Russia's leading business daily Vedomosti on Wednesday.