Apple has halted sales in Russia, while Samsung and Ikea up their prices and car dealers cancelled orders from manufacturers, in response to the tumbling value of the ruble.
The iPhone maker pulled the plug on its Russian online store on 16 December due to what it calls "extreme" fluctuations in the value of the ruble; the currency has slumped by as much as 20% in the last week, and a shock raise in interest rates from 10.5% to 17% failed to slow the descent.
An Apple spokesperson said: "Our online store in Russia is currently unavailable while we review pricing."
The store remained offline at the time of publication, and is now joined by Ikea, which currently informs Russian shoppers that it is implementing "a gradual change in the prices of some goods".
The Swedish retailer said the prices of wardrobes, kitchen goods, storage systems and other products "will be reviewed after December 18th".
It warned customers that online prices are being constantly updated and may differ from those shown in physical stores.
Samsung has also adjusted its prices, upping the cost of smartphones and tablets by between nine and 14%. The company said the higher prices are temporary and only valid until 12 January, and that retail partners will not be forced to adjust their prices. At the time of publication, many were yet to do so.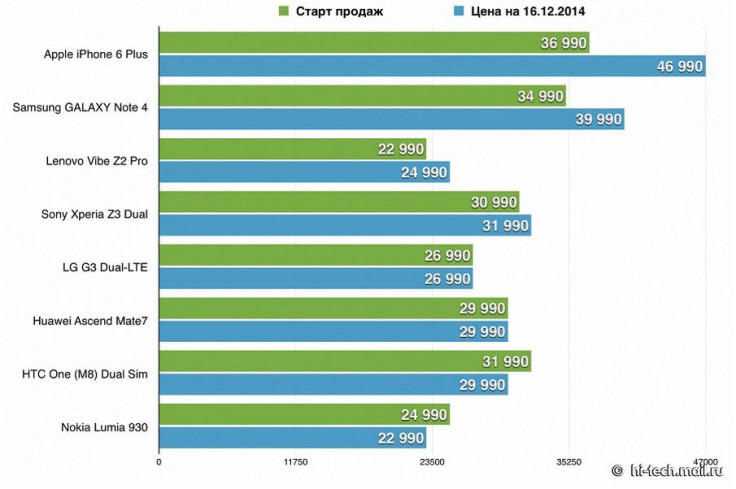 US analyst Andrew Bartels told Bloomberg: "Anything you earn [in Russia] is going to be coming back to dollars or into euros at very depressed rates, so the bottom line for tech vendors right now should wisely be pulling back from Russia, as Apple has done."
Last month, Apple increased its prices in Russia by an average of 25%; the 16GB iPhone 6 went up 8,000 rubles (£74.40) to 39,990 (£372), while the iPhone 6 Plus with the same storage rose 10,000 rubles to 46,990. The iPad Air 2 saw its prices rise by between 4,000 and 5,000 rubles. A high-end MacBook Pro with Retina display surged by between 24,000 and 36,000 rubles.
Car manufacturers are also feeling the side effects of the weakening ruble, as three car dealers have reportedly stopped taking deliveries from Jaguar Land Rover, BMW, Volkswagen and Bentley while they adjust their prices.
Vyacheslav Zubarev, CEO of TransTekhServis, which owns a car dealership network, told Russian newspaper Vedomosti that the halt in deliveries was "a temporary measure related to the fact that we have too uncertain situation on prices."
Zubarev said he is worried of getting into a situation where his company sells cars for less than they were bought from the manufacturers for. Any delays in stock arriving at the dealership could mean selling them for less than they were bought form Zubarev added.
IBTimes UK has contacted Jaguar Land Rover and BMW, and will update this story when we get a reply.