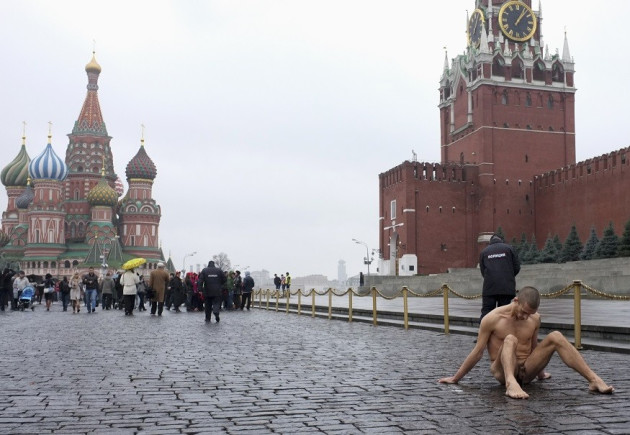 A Russian man undertook an extreme protest in Moscow by nailing his testicles to the pavement in Red Square.
Naked performance artist Pytor Pavlensky, 29, drove a nail through his genitals in to a cobblestone on the street, to complain about Russia's "police state" and public apathy.
He called the performance "Freeze," but perhaps "Ouch" would have been more appropriate. The painful protest was carried out on national "police day" in Russia.
Explaining his actions in a statement on grani.ru (LINK) Pavlensky said: "society condones tyranny and - forgetting their numerical advantage through inaction, brings the triumph of a police state."
"The action can be seen as a metaphor of apathy and political indifference and fatalism of modern Russian society."
Police covered Pavlensky with a blanket before taking him to a hospital. He was later questioned over the incident.
The Saint Petersburg artist has a record for inflicting pain on himself in the name of his politicised art.
Last year Pavlensky stitched his lips together in a show of solidarity with jailed punk band Pussy Riot. Earlier this year, he wrapped barbed wire around himself in public.