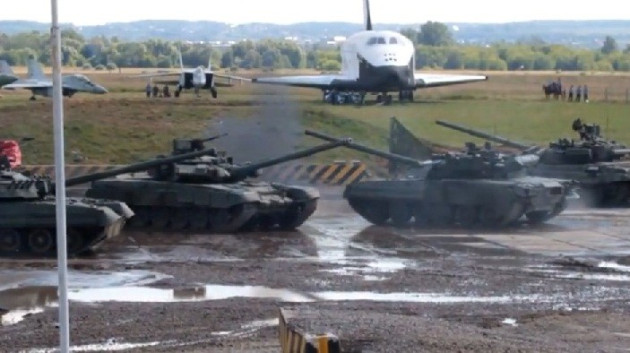 Russia has found a novel way to demonstrate its military strength by staging a tank ballet at an arms exposition outside Moscow.
During the performance of Invincible and Legendary, choreographed by Bolshoi Theatre director Andrey Melanyin, five battle tanks performed manoeuvres in time to music, including spins, turns and pirouettes.
A video of the dance from the Russian Engineering Technologies International Forum shows the armoured vehicles as they are put through their paces, along with a self-propelled gun and fighter jets.
The music used in the ballet covers a spectrum of tastes, ranging from techno and a short tango piece to an excerpt from Georges Bizet's opera Carmen.
The show was sponsored by the Russian government-run arms manufacturer Rosoboronexport, which has come under fire for selling arms to Syria.
Time magazine referred to the weapons expo, the Forum of Technologies in Machine Building, as a "military smorgasbord for the dictators of the world". It was opened by Russian President Vladimir Putin in 2010.
According to the magazine, a Syrian delegation of military officials attended the forum, as well as Syria's military attaché in Moscow.
The weapons expo, which featured advertising and glossy brochures, is intended to showcase Russian weaponry as part of the country's plan to expand its share of the global arms market.
Russia currently holds 24 percent of the arms trade, second to the United States, which has a 30 percent share.
Russia exported around $13bn worth of weapons in 2011 and has already exported more than $6.5bn worth of arms in the first six months of this year, the Guardian reported.