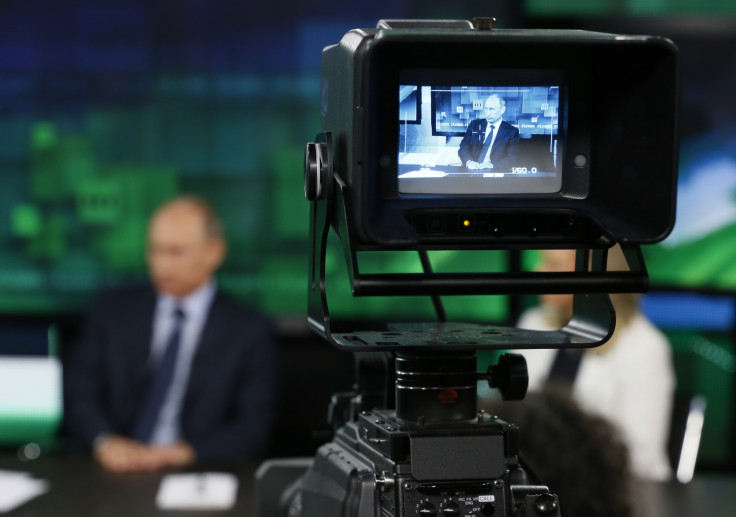 The temporary ban on Kremlin-backed news organisation RT on Facebook has drawn a sharp response from Russian authorities threatening retaliation. On Thursday (19 January), RT said it was blocked from posting images, videos, links and other media to its Facebook page for about 20 hours. Shortly after, it reported that its access to the Dataminr Twitter news-discovery service was also blocked.
RT said the Facebook block was enforced following RT's broadcast of President Barack Obama's final press conference on Wednesday due to a copyright complaint. Facebook told IBTimes UK that the block was standard procedure after a copyright infringement complaint is filed regarding live broadcasts, adding that it is working with the Russian network to address the issue. However, it said it streamed a subscription Associated Press feed which should not have raised any issues.
"All the features for this page owner have now been restored," a spokesperson for Facebook said, the Guardian reported. "We are looking into the reasons behind the temporary block."
The ban was initially set to be lifted on Saturday, 21 January, which means RT would not have been able to cover Donald Trump's inauguration on 20 January.
The timing of the issue sparked an angry response from Russian authorities.
"This is a doubly unacceptable situation," Russian Ministry of Foreign Affairs spokeswoman Maria Zakharova told state news agency RIA Novosti. "It is censorship, on the one hand, and it's censorship as an instrument of a competition."
Head of Russia's communications watchdog Roskomnadzor, Alexander Zharov, also threatened to retaliate with "active countermeasures".
"Many American press networks work in Russia, and have the same media rights and opportunities," Zharov told RIA Novosti. "If this unprecedented pressure on RT on the part of American media and social networks leads to limits on the work of Russian networks, we will have to take active countermeasures."
RT editor-in-chief Margarita Simonyan claimed the copyright complaint came from Russian-language television network Current Time TV, which is run by Radio Liberty, also known as Radio Free Europe.
"I'm not surprised," Simonyan told Ria Novosti. "If the US Department of State could block oxygen to us, they would do it."
Current Time TV, however, denied that it filed a complaint.
"Our channel did not file any complaints regarding RT's transmission of the Obama news conference," Current Time's acting director Daisy Sindelar said, RFE/RL reports. "The blocking of RT is not the result of any action on our part." The network also clarified that it is funded by Congress through the Broadcasting Board of Governors, not the State Department.
The incident comes as relations between Russia and the US have continued to strain in recent weeks after Washington formally accused Moscow in October of attempting to interfere in the presidential election and sway the vote.
US intelligence agencies recently concluded in a declassified report that President Vladimir Putin personally ordered a multifaceted campaign to undermine American democracy, hurt Hillary Clinton's campaign and help Trump win the White House.
It also accused state news agencies including RT of collaborating with WikiLeaks and helping the Russian government interfere in the November election with the aim of "undermining viewers' trust of US democratic procedures and undercutting US criticism of Russia's political system".
The Kremlin has continued to dismiss the allegations and slammed the report as "baseless and amateurish", saying the claims are "reminiscent of a witch-hunt".
After the block was lifted, Zakharova told reporters that Facebook will have to provide an explanation for the interruption.