Russia has said it would keep short-range ballistic missiles on its border with Nato border as Vladimir Putin threatened "counter-measures" against expansion of the alliance.
Viktor Ozerov, head of the defence committee in Russia's upper house of parliament, said nuclear-capable Iskander missiles deployed to Kaliningrad in October would stay there permanently as a response to a military build-up of Nato in eastern Europe.
He said the Iskander and S-400 missiles were in the exclave because of the danger posed by the US defence shield, which went operational in Romania in May and which Washington says is to counter any threat from Iran.
Ozerov said. "We are facing two main tasks: to penetrate air defences and ensure protection from possible strikes. As response measures against this kind of threat, we will be obliged to strengthen our aerospace defence in that direction," The Times reported.
On Monday (21 November) in an interview with the filmmaker Oliver Stone, Putin said Moscow felt threatened by Nato expansion.
"Why are we reacting to Nato expansion so emotionally? We are concerned by Nato's decision-making," he said. "We must take counter-measures, that is, strike with our missile systems the targets that in our opinion begin to threaten us," Putin said.
US State Department spokesman John Kirby said that Russia's deployment of the missiles was "destabilising to European security".
"We call on Russia to refrain from words or deeds that are inconsistent with the goal of promoting security and stability."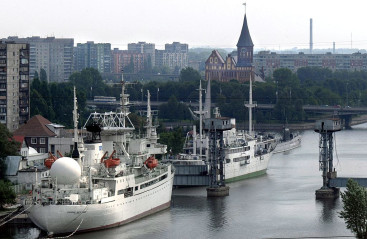 But chairman of the UK government's defence select committee Julian Lewis said both Nato and Russia have enough nuclear weapons to neutralise any nuclear threat from each other.
"This move has more to do with diplomatic retaliation than a serious increase in the threat to Nato. This sort of behaviour was par for the course in the old Cold War years," The Times reported.
How the incoming US president Donald Trump deals with Russia is being watched with interest in the west and the deployment in Kaliningrad hints at a tougher shift of Moscow's foreign policy.
Jens Stoltenberg, Nato's secretary general, said at a conference in Istanbul "everything Nato does is defensive, proportionate and fully in line with our international commitments."
"Before Russia's aggressive actions in Ukraine, Nato had no plans to send troops to the Eastern part of our alliance," the Telegraph reported.
"Moreover, we firmly believe and we are firmly committed to a two-track approach to Russia; strong defence, coupled with meaningful dialogue....Nato's aim is to prevent a conflict, not to provoke a conflict."