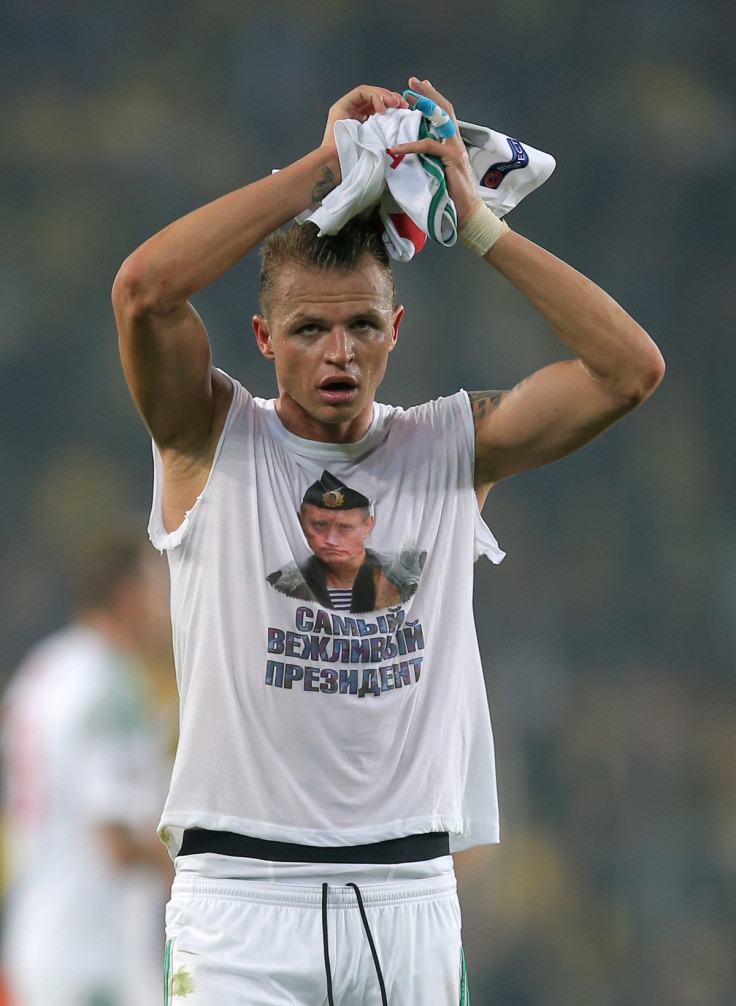 A Russian footballer faces punishment from Uefa after taunting Turkish fans by pulling off his club jersey to reveal a picture of President Putin at a match in Istanbul.
The vest worn by midfielder Dmitry Tarasov under his Lokomotiv Moscow colours showed Putin wearing a Russian naval uniform, with the praise, "The most polite president".
The Europa League game between the club and Fenerbahce came amid deepening tensions between Russia and Turkey, after Turkey downed a Russian fighter jet which it claimed strayed into its airspace in November, 2015.
Tarasov later defended the gesture: "It's my president. I respect him and decided to show that I'm always with him and prepared to give my support," he told Russian news agency R-Sport, after his side lost 2-0 in the encounter.
"What was written on that shirt was everything that I wanted to say," he added.
Lokomotiv Moscow faces punishment for the stunt, as players are banned from making political statements during matches under Uefa rules.
"Tarasov could be disqualified and I mean for a long time, a minimum of 10 matches. Lokomotiv football club could also be punished for allowing this to happen," a Uefa source told R-sport.
Uefa has in the past hit clubs with heavy fines after supporters made political gestures during matches, with Barcelona fined 30,000 euros after a Champions League game with Juventus in June 2015, when fans displayed a banner calling for Catalan independence.
In 2013, Glasgow Rangers were fined 50,000 euros after fans unveiled a flag with a picture of Irish Republican hunger striker Bobby Sands during a Champions League match against AC Milan.