Russian Legislator Condemns Same-Sex Marriage As 'Ugly Insult' to the Country
Vitaly Milonov pledges to annul St Petersburg wedding and try registry for treason.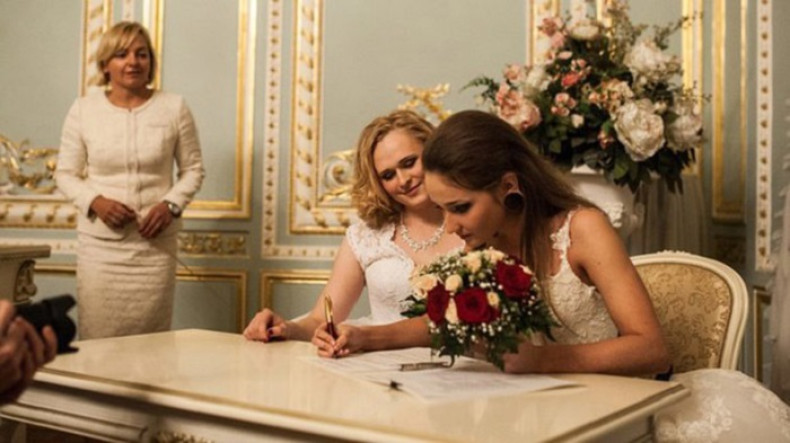 A Russian lawmaker in St Petersburg has hit out against a same-sex marriage that took place in the city and insisted that he will try to annul it.
Vitaly Milonov, who opposes gay rights, said the marriage between two women, one of whom was born male, was an "insult" to Russian families.
Milonov told Russian media that staff at the registry office where Irina Shumilova and Alyona Fursova wed should be tried for treason and criminal negligence.
He said annulling the marriage would avoid "an ugly insult to millions of Russian families in the future".
Milonov was quoted in the BBCas saying: "There are certain moral standards which it is vital to implement. These mad people should be banned altogether from getting married."
The couple arrived at the St Petersburg wedding registry office both wearing bridal gowns and holding bouquets.
They signed papers surrounded by friends and shared pictures of the ceremony on their profiles on the Russian social network VKontakte.
Marina Teodori, one of the bridesmaids at the ceremony, told reporters: "This is a big step for all of us. Most of us want to formally get married, but in Russia it is still impossible. For us it is the realisation of our dreams. We hope many will have this opportunity."
Gay marriage is banned in Russia, but the couple were allowed to marry because according to their passports, one is a man and the other is a woman.
A controversial 2013 law on "anti-gay" propaganda makes it illegal to disseminate information about homosexuality to minors in Russia.
Milonov has become a well-known sponsor of the original gay propaganda ban, which was introduced in St Petersburg and later passed at federal level despite an outcry from Russian LGBT activists and international human rights organisations.