Russian plane crash: 'Increasingly likely' it was terrorist bomb, says David Cameron
David Cameron has said it is "increasingly likely" that the Russian airliner that crashed in Egypt's Sinai peninsula on 31 October, killing 224 people, was brought down by a terrorist bomb as flights between the UK and Sharm el-Sheikh have been suspended.
Speaking after chairing the government's Cobra emergency committee on the issue, Cameron said that despite the travel chaos caused by the halted flights, with an estimated 20,000 Britons left stranded in the Red Sea resort, new intelligence discovered meant that the decision was made to put the safety of British citizens first.
The prime minister said: "I've just chaired another meeting of the government's Cobra emergency committee. But the decisions that I'm taking are about putting the safety of British people first. That's why we suspended the flights to Sharm al-Sheikh, that's why it's going to take some time before we can fly people out of Sharm al-Sheikh back to Britain.
"What we need to put in place is more security at that airport so it's safe to fly people home. So it's safe to fly people home. That's our priority. That's what we'll work with the Egyptians to do. We cannot be certain that the Russian airliner was brought down by a terrorist bomb. But it looks increasingly likely that that was the case. So I act on the intelligence, I act on the advice of experts and it's the right thing to do to suspend these flights until we can safely bring people home."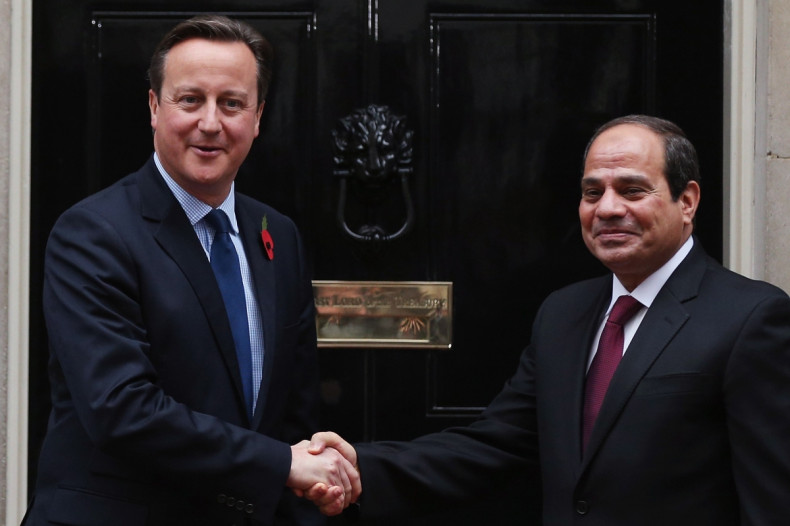 Cameron added that he had "every sympathy" with Cairo's anger over the impact on its tourist industry and that he would discuss the situation with Egyptian President Fattah al-Sisi, who has met with the prime minister today on the start of his state visit to the UK.
"First of all I have every sympathy for the Egyptians because of course tourism is vitally important to their econom," Cameron said. "I want to restore our links and our flights with Egypt as soon as is safe and is possible. But I have to put the safety, I want to put the safety of British people first.
"Now if that Russian airliner was brought down by a terrorist bomb that does have very real implications and it means it's absolutely essential that we see that improvement of security at Sharm al-Sheikh airport and that's what I'll be discussing with the Egyptians today and we'll be working round the clock with our experts to help put that in place.
"I also feel huge sympathy for British holidaymakers, those who are about to go on holiday who have had to unpack their bags and stay at home. That'll be deeply disappointing to them and also I'm worried too about the 20,000 British people in Sharm al-Sheikh many of whom now are overdue for coming home and will be wanting to come home, and we'll do everything we can to help them. But I want to make sure they can come home safely. That's what all of this is about."
Earlier Foreign Secretary Philip Hammond had told Sky News that holidaymakers in Sharm el Sheikh will start being flown home tomorrow: "We have emergency short-term measures that will allow us to bring people back and expect them to be in operation by tomorrow. The measures will remain in place as we bring people out over the next week or 10 days," he told Sky News.
Previously UK and US officials said a bomb may have brought down the Russian plane. Egypt has dismissed claims that Islamic State (Isis) militants brought down the plane.