Police physically removed protesters who were demonstrating against the visit of Egyptian president Abdel Fattah el-Sisi to Downing Street. Rival groups of demonstrators shouted slogans, with banners from supporters lauding the Egyptian president for fighting terrorism, while opponents who accuse him of murdering and illegally detaining hundreds of political opponents shouted for him to step down, and denounced him as a murderer.
Five protesters dressed in white boiler suits covered in fake blood lay down before the gates of Downing Street to block the access of the Egyptian president's motorcade. They were removed by police. Others tried to run in front of a coach believed to be carrying Egyptian delegates, and were stopped by police.
The Metropolitan Police said that five people had been arrested for wilful obstruction of a public highway, and two others had been arrested for assault.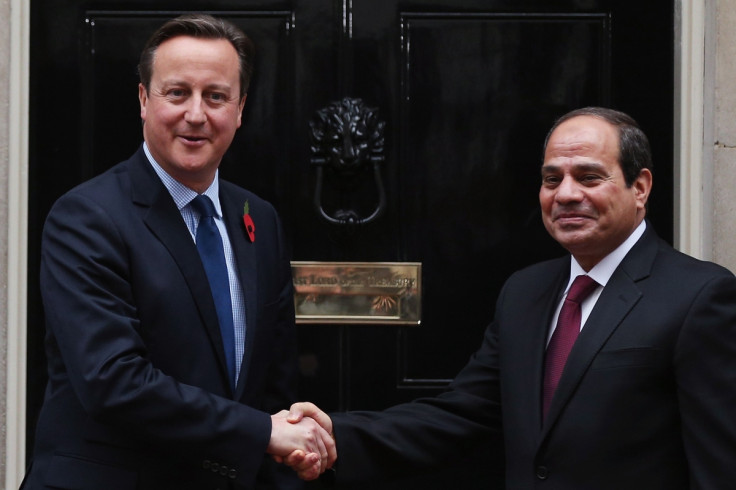 Prime Minister David Cameron shook hands with el-Sisi at the door of Number 10, and the two entered for discussions amid increasing diplomatic tension following the UK's decision to cancel flights to and from the resort of Sharm el-Sheikh over security concerns.
Earlier, Cameron said that the crash of a Russian passenger jet in Sinai on Saturday (31 October) as "more likely than not" caused by a bomb. UK Foreign Secretary Philip Hammond has also said that there is a "significant possibility" that Isis militants brought down the Russian plane.
Speaking from Downing Street after a meeting of the government's Cobra emergency committee, Cameron said it could take "some time" to fly out the 20,000 UK tourists stranded in the Red Sea resort of Sharm el-Sheikh.
Egypt earlier criticised the decision by the UK to suspend flights to Sharm, with the country's foreign ministry describing the decision as "premature and unwarranted."
Sisi visit protests - 4 November