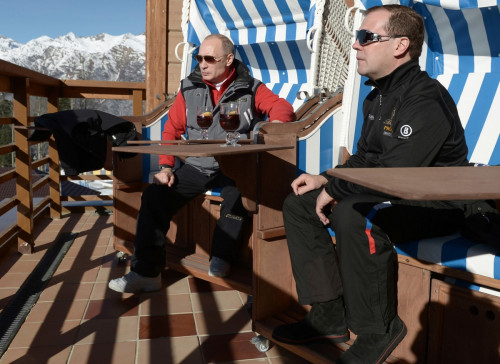 The Prime Minister of Russia, Dmitry Medvedev, has been accused of "snaffling" a luxury 2 billion roubles (£35m) chalet constructed to house VIP guests to the Winter Olympics. According to reports in the Russian media, Medvedev's wife Svetlana visited the site during construction and his son held his 18th birthday party there. Medvedev's office has denied the claims.
Dubbed "Medvedev's Winter Dacha" by opposition groups, the chalet, built on land close to the site of the skiing competitions at Krasnaya Polyana, includes a helipad, sauna, gym, and indoor swimming pool. Photographs seen by bloggers hostile to Medvedev purportedly show a portrait of Medvedev with Vladimir Putin skiing nearby.
At first Russian journalist Andrei Malgin doubted the claims because he believed the site on which the chalet was constructed was owned by state gas giant Gazprom. However, when he investigated further he discovered it was actually owned by the shadowy Dar Foundation, whose head, Ilya Yeliseyev, was at law school with Medvedev. The two later went into business together.
This is not the first time Medvedev, who was President of Russia from 2008 to 2012 before becoming PM, has been accused of making personal gain at the expense of the state. The independent Novaya Gazeta has reported on similar "scandals" involving Medvedev's dubious property deals in Utrish nature reserve and Plyos, in the Ivanovo region.
However with the lavish opening ceremony just days away, there has been increasing anger in Russia at the vast cost of hosting the Games when so many in the country face hardship. It has been estimated the Games will cost £32bn, including £5bn to build a road and rail link between Sochi and Krasnaya Polyana – a distance of just 30 miles. Russian contractors blame widespread corruption for the staggering costs.
Despite the threat of Islamic terrorism from the nearby North Caucasus, criticism over perceived homophobia in the country and claims of widespread corruption, the Sochi games will begin on Friday 8 February. Many Russians believe Putin is prepared to go to any lengths to ensure the success of the Games and cement his reputation as a man who gets things done.