A manhunt is underway for a blonde woman and her male companion who were seen on CCTV walking near the bench where Russian spy Sergei Skripal and his daughter Yulia were found unconscious.
Skripal, 66, and his daughter collapsed in a shopping centre in Salisbury on Sunday (4 March) after being exposed to an unknown substance. Police are investigating the incident as an assassination attempt.
CCTV footage released by the police shows a young woman carrying a red handbag and an older man near to the bench where the pair were found collapsed.
Officials have expressed concern that Yulia Skripal was "collateral damage" in the assassination attempt on her father. The pair remain in critical condition in hospital.
The deaths of Skripal's wife, Liudmilla, from cancer in 2012 and his son Alexander in St Petersburg last year are also being investigated by police, according to The Times.
Prime Minister Theresa May is facing mounting pressure to raise the incident with Vladimir Putin. When former Russian spy Alexander Litvinenko was poisoned in 2006, then Home Secretary May was criticised for her handling of the investigation into the incident.
A senior Whitehall source said that the prime minister would have to decide "whether we stand up to Russia over it or just do nothing and look weak," according to The Times.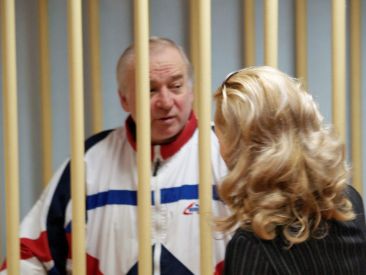 A friend of Litvinenko told IBTimes UK that the suspected attack against Skripal may have been a Kremlin warning to other defectors to not expose Russian secrets.
"I don't think this message is to the West, but this is definitely a message to those people who are thinking about releasing Russian secrets to foreign powers," said Yuri Felshtinsky, who co-wrote the book Blowing up Russia with Litvinenko.
"[The message says] 'we will discover you, we will catch you, we will put you in prison and even if you defect, we will kill you later anyway,'" Felshtinsky said.
One of Skripal's relatives told the BBC that the former agent "knew it would end badly and that he would not be left alone."
Foreign Secretary Boris Johnson told the House of Commons: "It is clear that Russia, I'm afraid, is now in many respects a malign and disruptive force."
The Russian embassy in London has dismissed the allegations as a "new phase" of an "anti-Russian campaign."