Sweden has said it could use force against a suspected Russian submarine that is believed to have violated its borders on the Baltic Sea less than 30 miles (50 km) from Stockholm.
The supreme commander general Sverker Goeranson warned he was poised to use "armed force, if necessary" to bring the mysterious object to surface, after days of fruitless search. More than 200 troops along with battleships, minesweepers and helicopters have scouted the area off the coasts of the Swedish capital looking for "foreign underwater activity".
Earlier reports suggested that the object could be a damaged Russian submarine, a U-boat, rekindling memories of the final years of the Cold War when Sweden mobilised its troops to catch Soviet-era submarines along its coasts.
New sightings were reported in the past few hours, although Russian pro-Kremlin media claimed that the foreign submarine belonged to the Dutch Navy.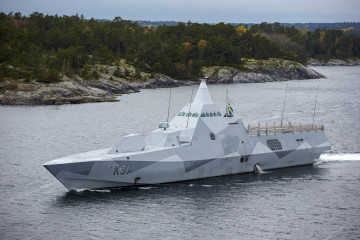 Goeranson said that the most important value of the operation "is to send a very clear signal that Sweden and its armed forces are acting and are ready to act when we think this kind of activity is violating our borders."
"Our aim now is to force whatever it is up to the surface... with armed force, if necessary," he added.
The Swedish daily Svenska Dagbladet said the massive search started after a radio transmission in Russian was intercepted on an emergency frequency. Other transmissions from a point in the archipelago and Kaliningrad, a Russian enclave sandwiched between Poland and Lithuania, were intercepted last Friday evening.
Since Moscow's annexation of Ukraine's Crimea peninsula on the Black Sea, countries in the Baltic Sea region have been on the alert of Russia's military and imperial ambitions.
Economic and diplomatic relations between the Netherlands and Russia were inevitably put under strain in July 2014 after the Malaysia Airlines Flight MH17 disaster, which claimed 193 Dutch lives when it was shot down over pro-Russian eastern Ukraine by a surface-to-air missile.