Sweden's military has ordered civilian vessels to leave a stretch of open water between Nattaro island and Danziger Gatt about 15 miles off Stockholm as it continues to search for a suspected Russian submarine which may be in trouble in the area.
The military denies it is searching for a submarine but was investigating three possible sightings of "foreign underwater activity", all believed credible. One involved the sighting of a mystery man in black with a backpack wading towards shore on the island of Korso.
Yesterday (19 October) a photograph was released by Sweden's military which appears to show some sort of vessel. Troops and boats with special sensors have been sent to the area.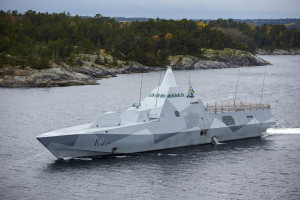 Airspace around the search area has been closed off, according to a Swedish official speaking to the BBC. Vessels are being asked to go no closer than 0.6 miles to military vessels.
"It's always about testing the Swedish response to see if we are awake and able to detect it," said the official, speaking on condition of anonymity. "It's a way of testing our skills in detecting and locating."
Ships and helicopters are involved in the search, which is described as an intelligence operation. The search area has now extended to islands further out in the Baltic, according to Swedish radio. Svenska Dagbladet newspaper said Sweden had intercepted a Russian distress call, though officially Sweden has yet to officially point the finger of blame at Russia.
Although this is said to be the largest Swedish military operation of its type, Sweden - which is not Nato member - has grown accustomed to similar events. Russia has bases in Kaliningrad opposite Sweden and last month Swedish fighters intercepted two Russian Sukhoi Su-24 fighter bombers.
Russia has denied conducting any activity in the area and blamed Dutch exercises in the area.
"In order to ease tensions in the Baltic sea and save the money of Swedish taxpayers, we would recommend to search for explanations from the Dutch navy," said a Russian military source. "Last week, a Dutch diesel-electric submarine - Bruinvis - was completing some practical tasks in the immediate vicinity of Stockholm."
The Dutch defence ministry denied the claim.
In Russia there is speculation that the vessel may be the nuclear sub the Dmitri Donskoi which according to some reports has 20 nuclear bombs aboard. In Russia memories are still fresh of the disaster in 2000 when Kursk submarine got into trouble. Russia refused to ask for international help and all 118 men perished.