A Russian state TV presenter has detailed on air the "perfect weather forecast" for the country's ongoing campaign in Syria in what seems a bizarre excess of support for President Vladimir Putin's new military operation.
The woman said on the state-owned Rossiya 24 news channel that weather-wise "the timing of the air campaign was well chosen", as a giant screen showed a Sukhoi Su-27 fighter jet with the words "flying weather".
"October in Syria is generally a favourable month for flying," the presenter said as the defence ministry's aerial footage of explosions on the Syrian countryside were broadcast as a backdrop. She goes on highlighting the advantages of the weather for the aerial bombings this time of the year, with clear skies, average wind speed of 2.4m and rainfall occurring once every 10 days.
The only downside seems to be the average 13 cloudy days but the presenter notes clouds are generally 4-6km to 6-10km above the ground, which should not affect the warplanes targeting systems.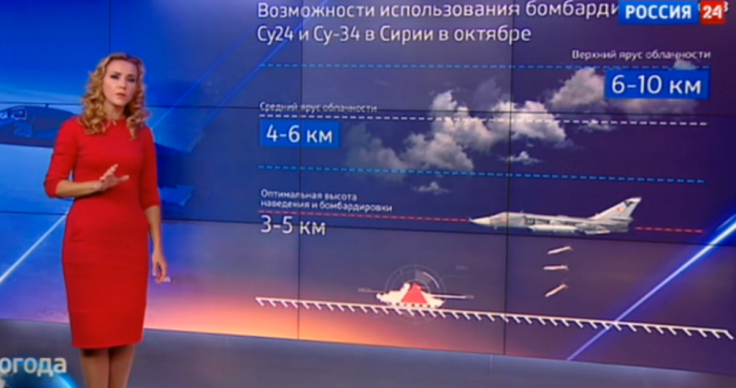 Describing a graph with an illustration of a Sukhoi Su-24 fighter jet dropping missiles on an enemy tank, the Russian presenter said planes fly higher than their optimal height – 3-5km – only if they need to avoid anti-aircraft fire. The only threat for the campaign would be sand storms that could delay missions, but they are rare in October.
At the end of September, Putin launched air strikes in Syria which the Kremlin said could last between three to four months against opponents of their ally, embattled President Bashar al-Assad.
Western officials and activists have questioned the real purpose of Russian campaign in Syria, claiming Putin's real target under cover of assault on Islamic State (Isis) is help Assad reclaim lost territory. Several strikes have hit the Syrian province of Latakia, near the Turkish border, including one that struck near a hospital run by Doctors Without Borders (MSF). Activists on the ground have accused Russian jets of targeting civilians, a claim Russian officials deny.
The Syrian Observatory for Human Rights (SOHR), a UK-based monitoring group, said at least 39 civilians and 14 fighters were killed in four days of Russian raids. Latakia is a stronghold of Assad.