A flotilla of Russian warships led by the country's only aircraft carrier, the Admiral Kuznetsov, has docked off the coast of Syria and is already assisting missions to the nearby warzone. The flotilla is now in the eastern Mediterranean, reinforcing Russia's military in the area and carrying out reconnaissance missions above Syria.
Russia has been supporting Syrian President Bashar al-Assad's military for the last year, with airstrikes across the country. Some of these strikes, particularly near the besieged city of Aleppo, have drew international condemnation after hitting hospitals and aid convoys.
The fleet is supported by attack helicopters and Russian MiG and Sukhoi jets, which have been regularly flying into Syrian airspace "every day" from the ship. The naval task force has been monitored closely by Nato, who have condemned Russia's presence in Syria.
The British Navy and RAF monitored the warships as they made their way through the English Channel in October this year. Taking almost a month since leaving Kola Bay in the Barents Sea, the flotilla has been prevented from refuelling in Spain after Nato concern.
The commander of the Admiral Kuznetsov aircraft carrier, Sergei Artamonov, said via videolink on Russia-1 television that the fleet is "now jointly carrying out tasks, manoeuvring to the west of the Syrian coast".
He said, according to Agent France Press (AFP): "Flights are being carried out from the deck... they are working on coordination with the shore port. The flights have been going on practically every day for the last four days."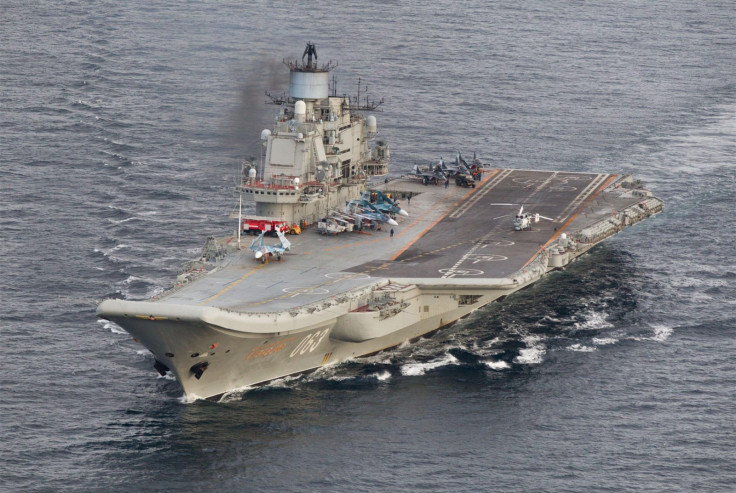 Russia's Interfax news agency cited a Russian military and diplomatic source saying that flights from the Kuznetsov are to "determine combat missions".
Russia-1 television also spoke to the commander of a nuclear-powered battle cruiser, Pyotr Veliky, which is part of the same flotilla. Commander Vladislav Malakhovsky said Western planes had come close to the flotilla. "They are afraid to come closer than 50 kilometres away, realising very well how powerful the nuclear cruiser is," Malakhovsky said.
Intelligence sources had previously said they feared Russian President Vladimir Putin would launch a "large-scale" offensive on Aleppo whilst the US was choosing their next president. The feared offensive never materialised and a unilateral moratorium on Russian air strikes on rebel targets inside Aleppo remains in place for now.