Russia's Hooligan Army: Thugs plan to ambush England fans during World Cup 'festival of violence'
Shunning alcohol and drugs, a super-fit group of Russian hooligans are seen training for violence next summer.
Hardened Russian football hooligans are planning to ambush visiting England fans at next year's World Cup – and have warned the tournament will become a "festival of violence".
A chilling documentary shows how Three Lions supporters are likely to face a repeat of the bloody beatings they suffered in France during last year's European Championship, with Russian hooligans already in training for fights.
BBC Two's Russia's Hooligan Army, airing on Thursday night (16 February), shows young Russian men taking part in pre-arranged brawls against rival gangs.
Shunning alcohol and drugs, the super-fit group of hooligans are also seen training together in the gym to ensure they are combat ready for the World Cup in June 2018.
One masked Russian football hooligan reveals on the programme: "Everyone from the fans' movement is looking forward to the World Cup taking place in Russia ... Our opponents are naturally the English because they are the forefathers of hooliganism and naturally they are always awaited."
He added: "For some, it will be a festival of football; for others, it will be a festival of violence."
Another hooligan is asked how visiting England fans can avoid being targeted by hooligan groups. He simply laughs and says: "Well, I dunno...have a family and children around you? If you are there with your male friend you should calculate with getting your arse kicked."
The programme, by filmmaker Alex Stockley von Statzer, investigates the threat England fans could face as they travel to Russia next year and the culture surrounding hooliganism in the country.
It features interviews with members of the notorious Orel Butchers firm, based in the city of Oryol, which gained infamy for its brutal attacks on English fans in Marseilles during Euro 2016. The three days of violence saw more than 100 injured and left two England fans in a coma.
One leading Orel Butchers member involved in the fights, called "Denis", says what happened in France was like "200 professionals fighting 2,000 amateurs".
"I would say a lot of British guys went over to France, you know, they have some fun, to shout around, to throw some glasses. To chant their wonderful songs and that's it," he says.
"And we were quite determined to go down and mess up with the British guys to see where our level is and what they are capable of."
He adds: "I hit a guy in the head, like if you can imagine a penalty kick, I shot a good penalty ... I must admit there was like one British hooligan, he was in a coma, I was thinking to myself like s**t, I bet that's my guy, because I really like hit him properly on his head."
He says it is "100% guaranteed" England fans will be subjected to similar attacks during the World Cup next year, but admits he fears leaders of firms like his could be locked up by Russian police in the lead-up to the tournament.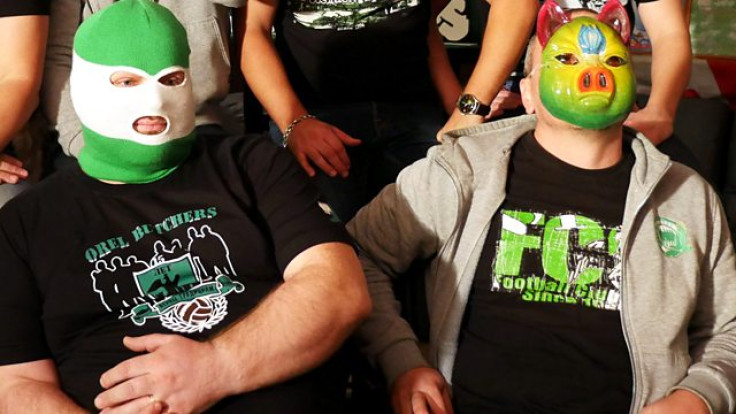 Russia is passing new laws to combat fan violence which impose stadium bans for hooligans, but it is unclear how serious and effective the crackdown will be.
Fifa President Gianni Infantino said this week he is "not at all concerned" by the threat of violence at the tournament, and that he has "full confidence" in the Russian authorities to combat any trouble.
British police told IBTimes UK they were already working closely with Russian counterparts to prevent a repeat of the clashes seen in France, while senior officers will travel to the country in the near future to plan further security arrangements.
Foreign Office minister Sir Alan Duncan said British embassy staff in Moscow have also "had a number of detailed discussions with the Russian Government about the safety and security of British Nationals during the World Cup and has visited host cities".
While failing to prevent the tournament being marred by violence, the run-up to Euro 2016 saw almost 2,000 supporters from the UK forced to hand over their passports after being identified as potential troublemakers.
Some 30 more British fans involved in disorder during the tournament have since been given football banning orders (FBOs), prohibiting them from travelling to Russia next year.
The UK Football Policing Unit, responsible for handing out the bans, said it was "impossible to give a definite number" of how many British fans in total will be prevented from travelling during the 2018 World Cup.
Vladimir Markin, head of the Fan Safety Committee of the Russian Football Union, said last month: "A repeat of the Marseille events won't happen here, for a number of reasons.
"All eyes are on us, and people will be keen to criticise us given the slightest opportunity.
"Both the Confederations Cup and the World Cup have to go not just smoothly, but perfectly. And our Committee will take a part in it."
---
Russia's Hooligan Army will air on BBC Two at 9pm on Thursday 16 February.
© Copyright IBTimes 2023. All rights reserved.