Some 150 Russian football hooligans were behind much of the violence that erupted in Marseille ahead of the Euro 2016 match with England, French prosecutors have said. Brice Robin, the chief prosecutor in Marseille, said most of the 35 people injured in the four days of fighting were English, four of whom are in serious condition.
Robin revealed only two Russians had been arrested, both for pitch invasions, prompting fears England fans could be subject to further attacks when the two groups of supporters meet each other again in Lille later this week.
"There were 150 Russian supporters who in reality were hooligans," Robin told a news conference on Monday (13 June). "These people were well prepared for ultra-rapid, ultra-violent action. These are extremely well trained people."
The worst injured fan has been named online as 51-year-old Andrew Bache, from Portsmouth. He suffered a critical brain injury after a mob of Russian supporters repeatedly struck him with an iron bar in the head.
Assistant Chief Constable Mark Roberts, the head of Britain's Euro 2016 policing operation, said the unrest in Marseille was the most serious he had encountered in his 10 years on the job.
He said: "England has had its problems with hooligans in the past. But the Russians are entirely different – they are like nothing we have seen before. They are highly organised and determined to carry out sustained violent attacks at a level of aggression I have not encountered in the past 10 years. Our spotters in Marseille saw them putting in gum shields and putting on martial arts gloves and bandanas before attacking England fans in the port.
"We know some were carrying knives because one England fan was stabbed. They wore a kind of uniform – all in black t-shirts and clothing and most carried bum bags, possibly to conceal weapons."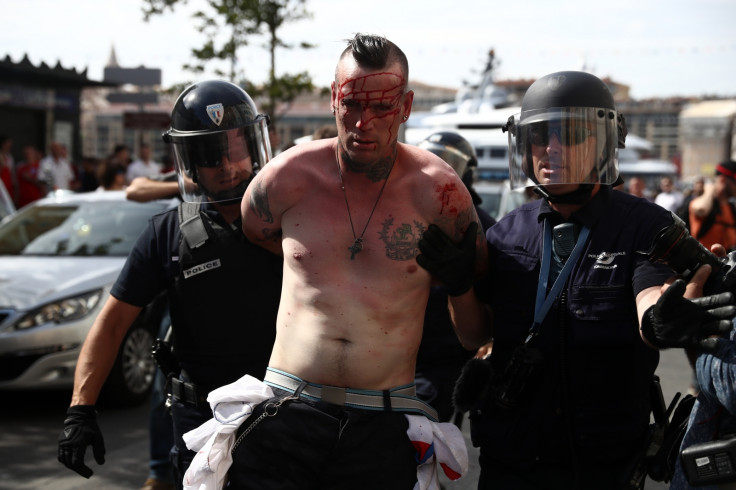 In total, about 20 people have been arrested over the unrest, with two Russians expelled from the country. Ten individuals, including six Britons, three French and an Austrian, are to face an immediate trial, with a 16-year-old Briton charged after throwing bottles.
Footage of the bloody unrest in Marseille, which began on Thursday, captured fighting both in the streets and in the stadium. It has been the worst violence at an international football tournament since the 1998 World Cup, during which Marseille also suffered three days of heavy violence involving England fans.
Russian supporters were seen climbing over barriers at the Stade Velodrome during Saturday's 1-1 draw, rushing at England fans and attacking them. A flare was also fired into a section of the stadium holding England fans.
There are fears further clashes could erupt in Lille later this week, where Russia plays Slovakia, on Wednesday, and where many England fans will be staying as they face Wales for a sold-out match in the nearby town of Lens the following day.
Pre-tournament advice issued by police asked England and Wales fans to stay in Lille rather than Lens, where drinking alcohol in the streets has been banned before and after the game for a 24-hour period. But Roberts now warned fans that Lille could be the site of more violence.
"It's realistic to expect that the Russian fans will seek to try to behave in a similar way," he told The Telegraph. "The majority of Russian fans are no doubt decent folk, but there is a hardcore group of Russian fans who are willing to use extreme violence. They will be in Lille the night before and people should just bear that in mind."
Lille security spokeswoman Veronique Planchon added:"We accept that there is a high risk that supporters of England and Russia will cross paths again in the week."
Uefa has already begun disciplinary proceedings against the Russian Football Union (RFS), charging them with crowd disturbance, racist behaviour, and setting off fireworks.
Questions will also be asked over why the "ultra-violent" minority of the 12,000 Russian fans, many of whom Robin said had a history of football hooliganism, were allowed to travel to France in the first place. About 2,000 England football fans had been issued with banning orders to block their travel during the Euro 2016 tournament.