A £6million stash of gold coins found in the backyard of a property in could have been stolen and buried there in the 1800s by San Francisco Mint Worker Walter Dimmick, according to US online magazine Altered Dimensions.
The so-called Saddle Ridge hoard - 1,427 coins dating from 1847-1894 - that was discovered in Calfornia in February 2013 - is believed to be the largest discovery in US history.
Dimmick began working at the mint in 1898 and by 1901 was trusted with the keys to the vaults until an audit revealed a $30,000 shortage in $20 Double Eagle coins, stored in six bags in all.
He immediately became the prime suspect as he was the only person who had keys to the vault and was later convicted of stealing the coins after a month-long trial. He was jailed for nine years at the San Quentin prison in California.
The gold Dimmick stole was never found leaving experts to wonder whether the latest find is the missing San Franciso haul.
According to US treasury laws, the anonymous couple who discovered the gold on their property could have it taken away from them and handed over to the descendants of the person who initally buried it or given to the state.
Veteran numismatist Donald Kagin, who is representing the Californian couple who found the gold - known only as Mary and John - said: "This family literally found the pot of gold at the end of the rainbow."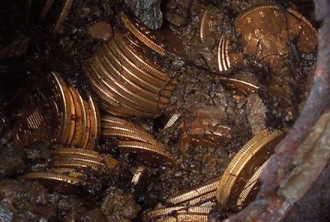 "I saw an old can sticking out of the ground on a trail that we had walked almost every day for many, many years," said John, who used a stick to dig it out.
Mary said: "I never would have thought we would have found something like this. However, in a weird way I feel like I have been preparing my whole life for it."
Valuer David Hall said the type and denomination of the coins were so rare they could be worth almost £600,000 apiece.
"What's really significant about this find is that unlike other hoards and treasures, this one includes a great variety of dates, many of which are in pristine condition," Kagin said.
The California couple is being advised by their lawyers regarding the matter.